A Guide On G20 eConference Visa For G20 Summit In India
The G20, or Group of Twenty, is a premier forum established in 1999, aiming at bringing together the world's most powerful economies to discuss economic and financial issues of mutual interest. The conference plays an integral role in shaping and strengthening global governance on major economic issues. In 2023, New Dehli will host the 18th G20 Summit on 9th-10th September. A specific type of visa granted to delegates of the G20 Summit in India named "G20 eConference visa" which can be obtained online is a required document to attend the conference. Let's keep reading to learn how to apply for this visa!
What Is G20 Conference 2023?
The G20 Conference 2023 is one of the most important forums for international economic cooperation held in New Delhi, India. Currently, the Group of Twenty (G20) comprises 19 countries, including Argentina, Australia, Brazil, Canada, China, France, Germany, India, Indonesia, Italy, Japan, the Republic of Korea, Mexico, Russia, Saudi Arabia, South Africa, Türkiye, United Kingdom and the United States, and the European Union.
India is an important member of the G20, representing one of the world's fastest-growing economies. India's hosting of the summit presents an opportunity to showcase its progress and influence in the global economy. The country has a strong track record in technology and innovation, making it a leading player in the global digital economy.
The G20 summit will focus on several key issues, including sustainable and inclusive growth, addressing climate change, and strengthening the global financial system. These issues are critical for the future of the global economy, and the summit provides an opportunity for leaders to discuss strategies for addressing them.
G20 conference 2023 in New Delhi, India
Useful Information About G20 Conference Visa Requirements For Delegates
Check eligibility for G20 Conference visa
Diplomatic/Official/Service passport holders of 19 G20 member states attending the conference are visa-free. Delegates holding Diplomatic/Official Passports of countries with whom India does not have a Visa Waiver Agreement may submit an application for a regular/paper Conference Visa at the nearest Indian Embassy or mission.
Only ordinary passport holders participants/delegates attending G20 meetings can apply for a G20 eConference visa online. This multiple-entry visa is issued particularly for delegates who participate in G20 Conference in India and is valid for up to 1 year.
It should be noted that the G20 eConference visa facility is not available for those holding Diplomatic/Official/Service/International Travel Documents like United Nations Laissez-Passer (UNLP). Delegates from UN/International Organisations holding Diplomatic/Official Passport or United Nation Laissez-Passer, thus, are recommended to apply for a regular conference visa at the nearest Indian Embassy or consulate.
If an individual holding an OCI (Overseas Citizens of India) Card is attending the G20 Meetings as a delegate, they must obtain prior permission from the Ministry of Home Affairs in India in order to attend G-20 events. As part of this process, they are required to upload their accreditation letter issued by the G-20 Secretariat while seeking permission from the Ministry of Home Affairs in India.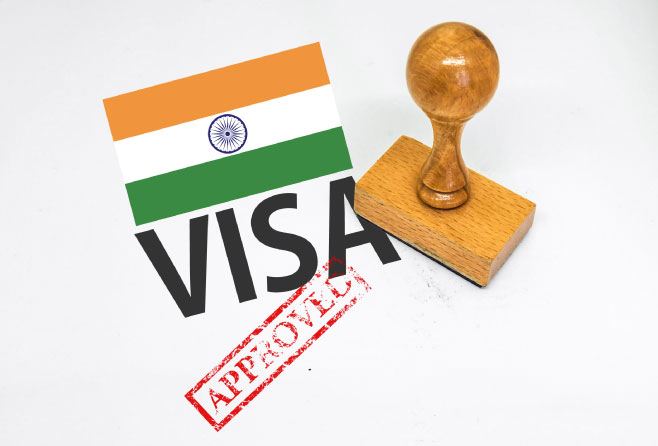 G20 conference visa for delegates
G20 eConference visa requirements
Ordinary passport holders of eligible countries can apply for a G20 eConference visa, provided that they meet certain criteria. Here are some documents the delegates should prepare to obtain a G20 eConference visa successfully:
A scan of the passport's biographical page. The passport used to apply for a visa should have at least six months of validity and a minimum of two blank passport pages for validation
A personal color photograph of the applicant
Accreditation Confirmation Letter for G20 Conference
Step-by-step instructions for obtaining a G20 eConference visa
Fortunately, delegates can apply for a G20 eConference visa online on the Indian Immigration Services website by going through a few simple steps. The entire process can be completed online and takes applicants about 15 minutes.
Step 1: Fill in the visa application form, providing some necessary information. In the field "Type of e-visa", please choose "G20 eConference visa (multiple entries for 1 year)". Some personal information should be input in the visa application form, including full name, gender, date of birth, nationality, and passport number
Step 2: Review all the information and choose a payment method for the visa fee. After that, please send us some supporting documents above to complete the application process
Step 3: Wait for the visa result. A G20 eConference visa is issued within 05 hours to 03 business days, depending on the visa service the applicants choose. Once issued, the e-visa will be sent to the applicant's email address. Therefore, it is necessary to check your email on a regular basis to keep up to date with the G20 eConference visa application.
Apply for a G20 eConference visa online
A significant advantage of applying for a G20 eConference visa on our system is that applicants can apply for a group of up to 15 people without submitting separate applications. Regarding the visa fee, there are 02 categories: the Government fee and the Service fee.
If you have any inquiries about this type of service, do not hesitate to contact us. Indian Immigration Services team is always available to help you and bring you the best experience. Wish you a safe flight and an exciting trip to the upcoming G20 Summit in India!