Agra Travel Guide - A Journey To India's Architectural Gem
By Azure Lee
If you consider yourself an avid traveler, a visit to Agra is an absolute must. Every year, millions of people from all corners of the world flock to this relatively small city located in northern India. And why do they come? Well, two words: Taj Mahal, is one of the most magnificent and romantic achievements of architecture in the world. With its exquisite Mughal architectural style, the Taj Mahal has captivated and enchanted hearts for centuries.
However, it would be a mistake to view Agra as merely a quick stopover. Apart from the Taj Mahal, the city proudly holds two more UNESCO World Heritage sites, offering multiple glimpses into the past. Unfortunately, Agra, once the glorious capital of the prosperous Mughal Empire, has fallen into disrepair, and its magnificent historical monuments now stand as isolated wonders.
In this Agra travel guide, we'll explore the best time to visit in Agra, what to do, travel tips for Agra, and other important details you need to know when planning your visit to Agra. Keep reading to ensure you are well-prepared for your Agra journey!
Where Is Agra Located?
Agra is a city nestled in the northern region of India, western the state of Uttar Pradesh. Situated along the picturesque banks of the Yamuna River, it lies approximately 125 miles (200 kilometers) southeast of the bustling capital city, Delhi. Renowned for its abundant historical and cultural heritage, Agra draws in countless visitors from across the globe, primarily captivated by its crowning jewel, the iconic Taj Mahal.
Agra is a city nestled in the northern region of India, western the state of Uttar Pradesh
Best Time To Visit Agra
The best time to visit Agra is during the winter months, from October to March, when the weather is relatively pleasant and dry. Despite the high prices and volume of tourists, you'll avoid the torrential rains and oppressive heat that occur during the spring and summer months.
Another option is to travel to Agra during the monsoon season (July through late September), however even when it's not raining, the temperature may still be very hot and muggy (high humidity).
Regardless of the season you decide to visit Agra, we suggest avoiding weekends due to the high influx of domestic tourists, which leads to crowded conditions in the city and at popular attractions. It's important to note that the Taj Mahal remains closed every Friday. Additionally, if you plan to witness the Taj Mahal during a full moon, please be aware that special fees and conditions apply for that unique experience.
Read more: Best time to visit in India 
How To Go To Agra
Agra, renowned for its architectural marvels and historical significance, attracts visitors from all corners of the globe. To help you plan your journey, here is a complete guide on how to reach Agra from various major cities:
How to get from New Delhi to Agra
Agra is 216 km (134 miles) south of Delhi. One of the most convenient ways to travel from New Delhi to Agra is by train. Several trains, including the renowned Gatimaan Express and Shatabdi Express, operate between the two cities on a daily basis. The train journey takes approximately 2 to 3 hours, offering a comfortable and time-efficient mode of transportation.
Additionally, Agra is well-connected to New Delhi by a network of highways. You can opt for a private taxi, hire a car, or even take a bus to reach Agra. 
Agra, renowned for its architectural marvels and historical significance
How to go Agra from Noida
If you're starting your journey from Noida, a satellite city near New Delhi, reaching Agra is relatively easy. The distance between the two cities is approximately 190 kilometers, and the journey takes around 3 to 4 hours by road. You can hire a taxi or drive your own vehicle, enjoying a comfortable ride amidst scenic landscapes.
How to go Agra from Mumbai
To travel from Mumbai to Agra swiftly, the most efficient option is to take a flight to Jaipur International Airport and then hire a cab to reach Agra. This route typically takes around 6 hours and 55 minutes.
Alternatively, the recommended mode of transportation is to board a train from Mumbai to Agra Cantt, which usually takes approximately 18 hours and 58 minutes. Several trains, such as train numbers 02617, 09039, and 09037, operate on this route. 
Additionally, there are multiple flight options available from airlines like Go Air, Spicejet, and Jet Airways for those who prefer air travel.
How to go Agra from Kolkata
For travelers starting their journey from Kolkata, the vibrant city in eastern India, reaching Agra requires a combination of transportation modes.
You can travel from Kolkata to Agra by taking a flight to the Indira Gandhi International Airport in New Delhi. From there, you can continue your journey to Agra by air, train, or road.  
How to go to Agra from Bangalore
There are several trains that connect Bangalore with Agra, offering a comfortable and scenic journey. The travel time may vary depending on the train you choose, but it generally takes around 24 to 30 hours.
Every year, millions of people from all corners of the world flock to Agra
Things To Do In Agra India
Situated along the Yamuna River, Agra is renowned for its most famous attraction, the majestic Taj Mahal. However, the allure of this historical city extends far beyond this breathtaking monument. There is a wealth of exploration and experiences awaiting visitors, ranging from remarkable monuments and mausoleums to vibrant parks and bustling bazaars. To assist you in making the most of your visit, here is a list of things to do in Agra.
Taj Mahal
Undoubtedly, visiting the Taj Mahal is the primary reason for your journey to Agra. The Taj Mahal, a UNESCO World Heritage Site, is a timeless masterpiece that stands as an epitome of architectural excellence. Built by Emperor Shah Jahan in the 17th century, this white marble mausoleum in Agra, India, is a symbol of love and good things.
It is recommended to plan an early morning visit, where you can witness the Taj Mahal's magnificence against the backdrop of a rising sun while enjoying a more serene atmosphere before the influx of tourists.
Agra Fort 
The Agra Fort is a piece of Indian history and Indian architecture, measuring 380,000 square feet and having a semi-circular shape in addition to the distinctive red 'terra' aspect of sandstone stronghold.
Legend has it that the esteemed Mughal emperor Shah Jahan breathed his last in one of its towers, which afforded a view of the magnificent Taj Mahal. In addition to its expansive size, the Agra Fort boasts notable features such as the grand Delhi Gate, the Diwan-i-am, and the intricate embellishments adorning its revered columns, captivating visitors throughout the day.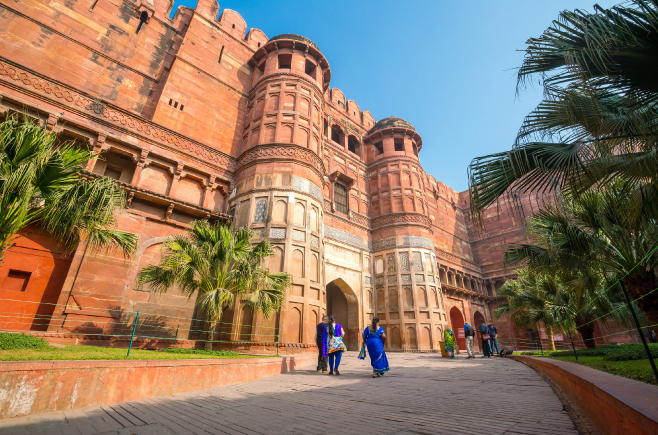 The Agra Fort is a piece of Indian history and Indian architecture
Baby Taj
Visit the tomb of Itmad-ud-Daulah is one of the best things to do in Agra India. Situated on the eastern bank of the Yamuna River, a short distance from central Agra, the Tomb of Itmad-ud-Daulah offers a remarkably picturesque location. This tomb is the first mausoleum in India to be entirely constructed from marble. You'll see that the Taj Mahal was constructed using the same stone.  Despite its smaller dimensions, it should not be overlooked or underestimated in terms of its significance and beauty.
For a private view of the mausoleum, ascend the steps to the top of its domed minarets or cross to the gate. You will realize that this is more than just a place to rest when you see the intricate carvings and embellishments on the external walls.
Fatehpur Sikri
Fatehpur Sikri, known for its intricate and elaborate Mughal architecture, is a beloved destination for travelers seeking a less crowded alternative to the Taj Mahal and Agra Fort. The Buland Darwaza, Diwan-i-Khas, Diwan-i-Aam, Jama Mosque, Mariam-uz-Palace, Zamani's Panch Mahal, Salim Chishti's mausoleum, and many more spectacular buildings are among its many attractions.
You can take a day trip to explore the charm of this historic city, which is a key stop on practically every 5-day tour of the Golden Triangle, which includes Delhi, Agra, and Jaipur. Surprisingly, the main drawback for travelers is not the distance to reach this attraction, as it can be reached by car in about an hour. Instead, it is the presence of persistent hawkers and unofficial guides in the area that poses a challenge for visitors.
Fatehpur Sikri, known for its intricate and elaborate Mughal architecture
Travel Tips For Agra - Making The Most Of Your Journey
When planning your trip to Agra, it's essential to keep a few travel tips for Agra in mind to ensure a smooth and memorable experience. Here are some valuable tips that will enhance your visit to this architectural gem:
Apply for an India visa
Before traveling to India, you need to apply for an India visa. But don't worry about anything. At India Immigration Services, you can apply for an India online visa without visiting Embassy or Consulate. The process is completely online and requires no paper documentation, simplifying the process and saving you time.
Dress Modestly
Agra is a city of cultural and religious significance. When visiting mosques, mausoleums, and other religious sites, dress modestly out of respect for local customs and traditions. It is advisable to cover your shoulders, wear clothing that covers the knees, and remove your footwear when required.
Try Local Cuisine
Agra is known for its delectable cuisine, especially Mughlai and North Indian dishes. You can try famous dishes like petha (a sweet made from ash gourd), kebabs, and aromatic biryanis. Explore the bustling street markets for a truly authentic culinary experience.
Plan in Advance
Book your tickets for the Taj Mahal and other attractions in advance to avoid long queues.
Travel insurance
Although Indian travel insurance is not mandatory, it is an essential recommendation for your trip from the India Government.
When embarking on a journey to a country like India, travelers should be prepared for unexpected circumstances such as trip cancellations, interruptions, accidents, illnesses, or loss of luggage. Having travel insurance for India can provide partial coverage for such incidents, helping to mitigate potential damages during the trip. The Indian Immigration Services believe in the importance of travel insurance for travelers, as it allows them to have peace of mind and fully enjoy their visit to India.