Best Trekking Places In India: Embarking On An Adventure Of A Lifetime
By Mabel Collins
You've heard about the delights of trekking in India and want to experience them for yourself. Trekking in India is an outdoor activity that should be on every traveler's bucket list, especially as the globe slowly begins to open up again. It offers magnificent scenery, terrific exercise, and lots of fresh air.
From towering Himalayan peaks to vast grassland and the sweltering slopes of the Western Ghats, India has the best trekking experience for everyone. As a result, we have collected a list of the best trekking places in India and tips for travelers to prepare before leaving your home.
Ready For The Hiking Experience In India
No matter whether you are a seasoned hiker or a first-time adventurer, India offers a range of stunning landscapes and breathtaking mountain trails that are sure to leave you mesmerized. With the right preparation, including hiring an experienced guide, packing the necessary gear, and following all safety precautions, you can ensure a safe and unforgettable hiking experience in trekking places in India.
Buy A Pair Of Good Shoes
Hiking is primarily centered around walking, and having durable footwear that can withstand the journey is essential. It is recommended to purchase sturdy sneakers that provide ample cushioning and can shield your feet from environmental factors while providing the necessary support. Sneakers with appropriate padding are constructed to handle the weight of hikers and distribute it evenly throughout the sole, rather than focusing solely on the heel.
Save Locals Contact Details
Prepare a mobile phone that supports roaming and has enough credit to allow you to call anyone - especially in an emergency. If you are from another state or a foreigner visiting India, you should get to know a few locals, such as those at your hotel, and save their contact information on your phone. It is also prudent to be familiar with the local police helpline, which should be dialed in the event of an emergency.
Choose The Right Gear
Bring a daypack, a map, and lots of water and food. Dress in layers to accommodate the shifting temperatures. You should also bring mosquito repellant. If you intend to go to many best trekking places in India, make sure to have your first aid kit with you.
Travelers should prepare well before hiking in India
Top 5 Best Trekking Places In India
Treks come in a variety of styles, many hikers prioritize location, while others are more concerned with how easy or difficult the route is. From short day walks to multi-day expeditions, here are our picks for the best trekking spots in India that travelers should try. 
1. Hampta Pass Trek
This thrilling journey takes you from the beautiful green meadows of the Kullu Valley through the 4270m (14,009ft) Hampta Pass, which was formerly a shepherd track and nomadic trading route. 
The starting point for this multi-day climb is from Jobra, which is a two-hour drive from Manali's hill resort. On this journey, you will trek through a blend of forests containing birch, deodar, and oak, punctuated with glacier-fed streams and lush green meadows adorned with vibrant wildflowers, causing you to lose track of civilization in no time.
Hampta Pass is considered one of the best trekking places in India; therefore, this is an excellent hiking trek for your first high-altitude journey. It will last around 4 to 5 days at the greatest height. It is always advised to take it easy and rest to really appreciate the grandeur of this walk. 
Hampta Pass Trek is a perfect option for first-time hikers
2. Chembra Peak In Kerala
The Chembra Peak, towering at 2100m, is the highest peak in Kerala and situated approximately 90 km northeast of Kozhikode. The hike to the summit is relatively straightforward and can be completed in a single day. A clearly marked and picturesque trail winds through dense forests, sprawling tea plantations, and fragrant coffee and spice estates that emanate the delightful aroma of pepper and cardamom.
This rocky region is rich in biodiversity, with over 300 vulnerable species of flora and wildlife. Trekkers should look for unique flora as well as rare sightings of wild Asian elephants, lion-tailed macaques, Malabar hornbills, and Nilgiri tahr (a sheep-like wild ungulate).
Hiking permits must be obtained at the forest office in Meppadi, which is around 10 kilometers from the route's starting point. The walk itself is around 7 kilometers long and will take approximately 6 hours to finish at an average pace. 
Chembra Peak in Kerala
3. Valley Of Flowers Trek
Uttarakhand's Valley of Flowers, one of the best trekking places in India, gets its name from the spectacular display of multicolored wildflowers that bloom at the end of the monsoon season in this alpine national park. Sightings of Asiatic black bears, brown bears, and snow leopards are also common in this protected region.
The trek commences from the town of Govindghat, located on the route connecting Joshimath to the revered Hindu temple of Badrinath. Hikers typically spend a night in Ghangaria, which is a straightforward 14km (8.7 miles) trek from Govindghat and serves as a base camp for those venturing into the valley.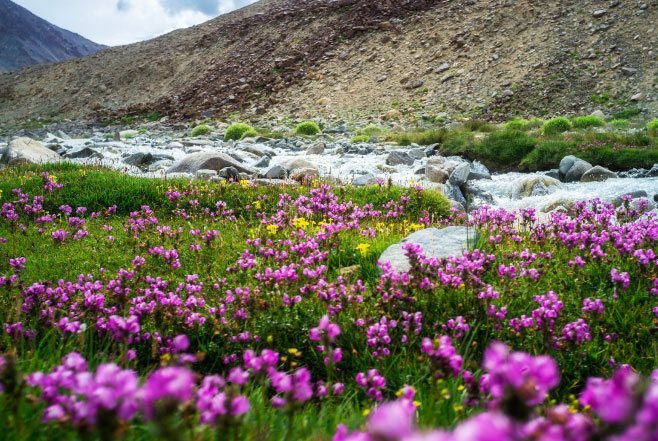 Enjoy the beauty of hundreds of flowers in Valley of Flowers in Uttarakhand
4. Rupin Pass Trek 
The Rupin Pass Trek, which runs from Uttarakhand to Himachal, is one of India's most renowned and spectacular hikes – and the higher you go, the better it becomes. Surprising landscape awaits you for 52 kilometers, beginning with glacial meadows and continuing into deep forests, through roaring waterfalls, and across dubious wooden bridges. You'll also come across interesting rock formations at every bend, so keep a lookout. 
Although not the most arduous hiking places in India, what we appreciate about it is the combination of stunning scenery and a moderate level of difficulty that poses a challenge for the average hiker. The route is also often covered in patches of snow and mud, emphasizing the importance of donning appropriate hiking gear.
The Rupin Pass Trek will take the typical hiker around 8 days to accomplish – but no matter how exhausted you are at the end of the day, the surreal landscapes encountered along the way make the journey entirely worthwhile. 
Rupin Pass Trek has high levels of hiking challenges for travelers
5. Chadar Trek
The Chadar Trek is a unique hiking experience that takes you across the frozen Zanskar River in Ladakh. The trek is only possible during the winter months when the river freezes over. 
The harsh desert climate and steep mountains of the region make the Chadar walk one of the best trekking places in India. Few treks are as isolated as the Chadar, and even fewer are held in the dead of winter. The trip is not for the faint of heart, since temperatures frequently fall below -10 degrees Celsius during the day and -20 degrees Celsius at night. 
The trek takes you through some stunning landscapes in Ladakh, including frozen waterfalls, steep cliffs, and snow-covered valleys. This journey takes around 10 days to complete; therefore, to have a great experience, you must have a high level of stamina and fitness.
Travelers can experience walking on ice at Chadar Trek
Some Extra Information Before You Travel 
Perfect Time For Hiking The Best Trekking Places In India
Given the vastness of India, trekking opportunities are readily available throughout the year. While the dry months between October to May are suitable for hiking, the prime season for hiking in the Himalayan foothills is between March to May. The best time to visit the high-altitude valleys of Ladakh is from June to September, when the snow melts and roads open from Himachal Pradesh.
Travelers can go for a hike any time of the year. Hikers should be prepared for all types of weather conditions as it can be unpredictable and can change rapidly - a situation that is worsened by climate change. 
From November through March, there is generally snow, making for difficult hiking conditions. In July and August, avoid Sikkim, Himachal Pradesh, and the area near Darjeeling because strong monsoon rains can produce landslides that sweep away roads and trails.
Which are the best treks in Indian Himalayas?
Nag Tibba Trek: This trek in Mussoorie takes you from Pantwari to the summit of Nag Tibba. You can see Gangotri, Srikanth, and Mt Bandarpounch there. The trekking course runs through beautiful forests and offers stunning views of sunrise and sunset.
Sainj Valley Trek: Great Himalayan National Park is one of India's best trekking. In winter, the trail is filled with snow and the temperature drops to minus 6 degrees Celsius.
Durban Weekend Trekking: a 15 km long trek starting at Chakrata Base Camp. After December, the trail is filled with snow, making it a little difficult. There is a forest with endless green meadows and thick canopy.
Sandakphu Palut Trek: This is one of the few trekking in India where you can see the four highest mountains on Earth, except for the second highest K2. You can meet a teahouse along the promenade.
Is Hiking In India Safe?
Hiking in India can be a safe and enjoyable experience, provided that certain precautions are taken. As with any outdoor activity, there are inherent risks involved, and hikers should always prioritize their safety by taking necessary precautions.
First and foremost, it is necessary to research the trail and its difficulty level before embarking on a hike. Some trails may be more challenging than others, and it is important to choose a trail that matches your experience and fitness level. It is also a good idea to hike with a guide or in a group, especially if you are unfamiliar with the area or are hiking in India for the first time.
While hiking in India can be safe, it is important to exercise more and follow safety guidelines to ensure an enjoyable experience.
Actively research and follow rules for the trip to the best trekking places in India
Which are the best treks in the Western Ghats?
Kodachadri Trek: This hill in Western Ghats is at an elevation of 4411 feet above sea level. The trekking course starts in the southern Kanara forest. Beginner trekkers can also begin this journey, as they mostly deal with low elevation forest landscapes.
Chembra Peak Trek: one of India's top trekking spots located near the town of Meppadi. At 2000 m above sea level, it is the highest peak in the Wayanad Hill Mountains.
Ratangad Fort Trek: a 400-year-old fortress once occupied by shivaji, king of maratha. The trek starts in the basic village of Ratanwadi and ends at the tip known as the eye of the needle.
Kudremukh Trek: Kudremukh is part of several trekking tours in India with various trekking trails and landscapes. When you reach the summit, the clouds and sky spread over the Arabian Sea are spectacular.
What are the best solo treks in India?
Nag Tibba Trek: Passing through thick woods of Oak, Rhododendron, Cider, and Alpine, Nag Tibba is an easy-to-moderate hike that is ideal for going solo.
Beas Kund Trek: Beas Kund Trek is a lovely journey that takes you to a stunning lush valley with an azure blue pond.
Chandrakhani Pass Trek: Chandrakhani Pass, located in Kullu valley, is a magnificent valley that will provide you with breathtaking views of the surrounding mountains such as Deo Tibba Peak, Pir Panjal, and Parbati range.
Pin Parvati Pass Trek: Pin Parvati Pass, which runs between the Parvati Valley on one side and the Pin Valley on the other, is a stunning valley filled with unique meadows, glacial lakes, hot water springs, and much more.
A Ticket To The Best Trekking Places In India
India's trekking trails are not only a way to connect with nature but also an opportunity to sink into the country's rich culture and history. Before embarking on any trek, it is important to research the trail and its difficulty level, pack accordingly, and prioritize your safety by following safety guidelines. 
Traveling to India is now easier than before, a valid visa is the key to unlock the door of this sacred country. So, if you are a nature lover and an adventure seeker, apply for an Indian e-visa, put on your hiking boots, pack your bags, and get ready to experience the beauty and thrill of trekking in India. Remember to check your eligibility in order to know your conditions and documents needed to apply for an e-visa. 
Indian Immigration Services is happy to assist travelers with add-on services including Travel Insurance and Travel eSIM to support your journey to the best trekking places in India. With proper preparation and precautions, hiking in India can be a safe and rewarding experience that will leave you with happy memories to cherish for a lifetime.