Mouthwatering foods to eat in India-Part 2
11. Khaman
This yellow, cake-like snack is prepared using soaked and freshly ground channa or garam flour, which is made from chickpeas. Fried chilies, chutney, and scraped coconut complete the snack.
12. Rajma
Ideal for vegetarians, rajma is a hearty dish complete with red kidney beans bathed in gravy. It's often eaten with rice.
13. Dahi vada
Vadas are fried balls of batter, made from either flour or lentils. For this dish, vada are soaked in a thick yogurt known as dahi, hence the name dahi vada.
14. Aloo Tikki
Aloo tikki translates loosely to potato croquette, although it's often called the potato burger, since it's a common vegetarian food in the country. The patty is deep-fried and made of mashed potatoes that have been mixed with onions, coriander, and spices. Dipping sauces for aloo tikki include yogurt and tamarind.
15. Roti
This unleavened flatbread is made from stone ground wholemeal flour. It's commonly served alongside curries.
16. Gajar ka halwa
A staple at weddings and festivals throughout northern India, gajar ka halwa is a dessert that you can feel good about eating, considering it's made from grated carrots garnished with nuts.
17. Paneer
Paneer is a cheese that is used all throughout Indian cuisine. The ways in which it can be prepared are endless, but deep fried and marinated are popular variations.
18. Dabeli
A favorite breakfast food in the western Indian region of Kutch, a dabeli closely resembles a burger, since its ingredients are sandwiched between a pav (bun). However, the patty is made from boiled potatoes instead of meat, which is then topped with spicy chutneys made from dates, garlic, and chilies, as well as pomegranate seeds and roasted peanuts.
19. Tandoori chicken
Recognizable thanks to its bright red or orange color, tandoori chicken is roasted and slathered in yogurt and tandoori masala, a spice mixture. The chicken's color comes from red chili powder.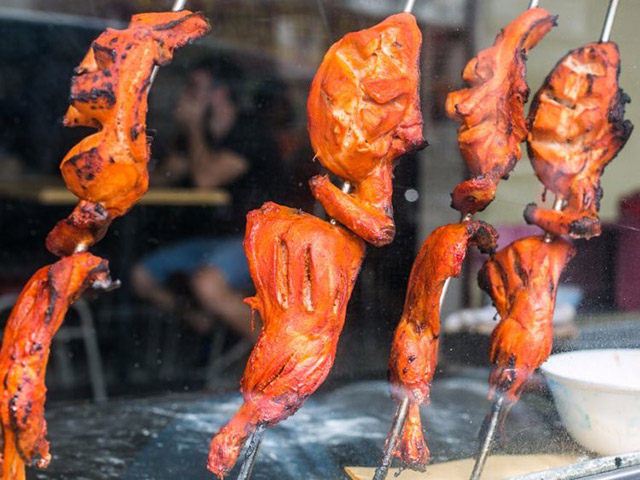 20. Samosa
These fried or baked crunchy triangle-shaped puffs are a staple street food throughout the country. They can be filled with a variety of savory foods like lentils, potatoes, minced meat, peas, or onions.
21. Kulfi
A kulfi may look like a popsicle, but it's denser and more rich, thanks to the fact that it's made from thickened milk. Popular flavors include mango, pistachio, rose, saffron, and cardamom.
22. Papdi chaat
Papdi (or papri) chaat is best described as the Indian version of nachos. A combination of sweet and spicy tastes and crunchy and creamy textures, this street food is piled high with wafers of fried dough that are then drenched in yogurt, tamarind chutney, boiled chickpeas and potatoes, and chaat masala.
23. Rogan josh
Rogan josh is a staple curry in India's Kashmir region, although the dish has Persian origins. The curry is traditionally made with braised lamb chunks, but the Indians often eat it with goat meat instead.
24. Dosa
A thin pancake that's popular in southern India, dosa are made from a fermented batter that consists primarily of rice and black gram. They're usually served alongside sambar (a kind of vegetable stew) and chutney.
Source: Thisisinsider