Indian e-Visa requirements for Estonian citizens
India's e-Visa scheme, which went into effect in 2014, has resulted in numerous benefits for both citizens wishing to visit the country and the country itself, enhancing tourism. Just in 2018, the country received 10.5 million visitors. The online application form for an India electronic visa is currently available for over 160 countries.
Among the countries that can benefit from this easy and seamless process is Estonia, which means many formalities that previously involved consulates and embassy visits can now be avoided. Applicants can complete the India e-Visa application form in up to 15 minutes and it is completely online.
1. Types of Indian e-Visa for Estonian Citizens
Indian online visas are available for Estonian travelers based on their purposes of travel. They can be classified by Indian Immigration Services as follows:
India Tourist e-Visa: The most prevalent visa among Estonians is the India Tourist e-Visa, which can be used to see family members, attend retreats and visit museums.

For the one-month validity period of this visa, Estonian tourists are allowed to stay in the country for 30 days. Estonian citizens are allowed to enter India one time during the validity of this visa.
For the 1-year validity period of this visa, Estonian tourists are allowed to enter India many times and stay in the country for 90 days per visit.
For the 5-year validity period of this visa, Estonian travelers have multiple times to enter India and have a maximum stayover of 90 days for each visit.

India Business e-Visa: Estonian travelers wishing to enter India for business purposes such as meetings, conferences, sales, etc., can apply for an India e-Business visa. During the one-year validity period of this visa, you are allowed to enter multiple times to India. You are allowed a maximum stay of 180 days in India.
India Conference e-Visa: Using the Indian 4-month validity e-Conference Visa, you can travel to India to attend an organized conference by the Indian government, and you can stay for 30 days in total.
India Medical e-Visa: The India Medical e-Visa is available for Estonians who wish to receive healthcare in the country for 60 days per visit. Medical e-visas are three-entry visas, having a 120-day validity from the date they are issued.
Nationals of Estonia entering India must have all of their supporting documents for the type of visa they hold.
2. India Visa requirements for Estonian Citizens
The application for an India e-Visa requires Estonian applicants to gather all the documents and meet the minimum requirements necessary to apply:
An Estonian passport with six months or more of validity is needed when applying for a visa to India. In addition, there must be at least 2 blank pages in the passport for stamping.
A passport biographical page and a digital photograph will also be requested during the application process.
The Estonians must be aware of the specific requirements involved, which include a letter from the hospital where they will receive treatment.
Travelers must submit an invitation letter, an ID card from the inviter business, and Political clearance from the Ministry of External.
It is required to include the applicant's email address - This is where notifications and updates will be sent.
After you submit your application, you will be asked for payment information for processing fees. Applicants can pay with a credit card or a debit card.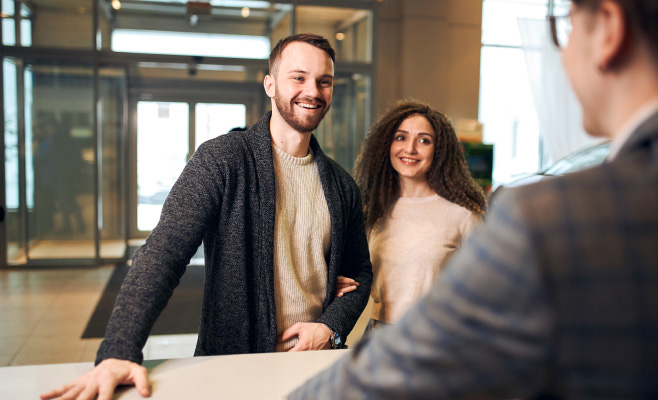 3. The application process for Estonians requesting an India e-Visa
Requesters from Estonia will be asked for information about themselves, such as:
Full name
D.O.B
Nationality
Gender
Passport details
Port of entry
Details of their stay in India
For more information, Estonian applicants traveling to India with kids must have an adult on their behalf them complete their e-Visa application.
When applying for an Indian e-visa online, please provide accurate and complete information that is crucial to obtaining an e-Visa. The information provided must be supported by the appropriate documents, referred to as Indian e-Visa entry requirements. Before applying, it must be revised to avoid mistakes and delays in the e-Visa approval process.
Visa applications for India are usually processed within a short period, and approval typically takes 2-3 business days. Estonian nationals will receive the acceptance letter via email to the email address they provided in their application form. They must print out the notification of acceptance and carry it with them during the trip in India.
4. Indian e-Visa fee for Estonian citizens
Estonians will need to pay two types of Indian e-Visa fees to complete e-Visa applications: government fees and service fees. In particular, the government charge is based on your nationality and set by Indian authorities. In addition, three types of service prices determine the service fee to pick from, each with its own processing time:
Normal: This is the cheapest option. Our online application service can obtain an e-Visa in three business days.
Urgent: Applied in some situations if you cannot wait days to receive a response. This type can assist you in obtaining your e-Visa within 24 hours. Therefore, you must pay an extra fee for this service.
Super Urgent: A quick e-Visa can be obtained in around five business hours using this service. This is the most expensive option, however, it is perfect for emergencies where you need a Visa in hours.
You must pay a total amount to complete your application. Payment methods include electronic transfer and wire transfer. Visa, MasterCard, American Express, and PayPal are examples of electronic payment methods. For wire transfers, Estonian citizens can make payments by using the Bank of Cyprus.
If you added Covid-19 health insurance to your itinerary, you would have a fantastic trip. It is a great idea not only to safeguard your financial benefits but also to strengthen your eligibility for an e-visa.