Indian e visa requirements for Saint Lucian citizens
To promote tourism, the Indian government has made the application process for entry visas simpler. Initially, only 43 nations could obtain an electronic visa for India (e-Visa). When requesting a tourist visa online, there is no longer a need to go to an embassy or endure hours of waiting upon arrival.
In April 2017, an updated program version went into effect that no longer applied only to tourist visas. The new system has subcategories for people from Saint Lucia who want to do business in India and people who want to go there for medical care. In addition, the number of countries that are now eligible has grown substantially.
More than 160 countries' residents can now obtain an electronic visa for India. Candidates need only fill out the online form, pay for the visa, and wait for an email with a printable e-visa that can be used at most Indian points of entry, including airports and seaports.
Indian e-Visa for citizens of Saint Lucia
Do Citizens of Saint Lucia Need a Visa for India?
Saint Lucian citizens must also apply for an India e-Visa in the same manner as other nationals. Visitors must have a valid passport and a visa at all times to enter the country legally..
Types of Indian e-Visa for Saint Lucian citizens
India e-Tourist Visa: You can travel to India, do sightseeing, and visit family with the help of this kind of e-visa. Depending on the duration of the journey, three different types of tourist e-Visa are offered.

e-Tourist Visa 30-days: With 30-day stay allowed, a tourist visa permits you to enter the country for up to 30 days after your arrival. Additionally, you cannot convert or prolong this particular sort of e-Visa. Applying for a 1-year or 5-year tourist visa will allow you to stay longer.
e-Tourist Visa 1-year: A continuous stay of up to 90 days is permitted with multiple entries with a one-year e-Tourist Visa, which is valid for one year from the date of issuance.
e-Tourist Visa 5-year: 05 years from the date of issuance is the validity period for the 5 years e Tourist visa. The duration of any visit cannot exceed 90 days. You may enter the country as often as you like.

India e-Business Visa: With numerous entry times and a maximum stay of 180 days per stay, this type is valid in India for up to 365 days from the date of issuance.
India e-Conference Visa: It is possible to enter India for Government Conferences with this visa type. The validity of this single entry e-Visa is four months from the date of issuance, with a stay of up to 30 days from the day of arrival.
India e-Medical Visa & India e-Medical Attendant Visa: You can accompany a patient or seek medical treatment in India with this sort of e-Visa. With this category, you can stay in India for up to 60 days from the date of your first arrival. You are also allowed to enter India three times.
India e-Visa Requirements for Saint Lucian citizens
Indian e-Visa requirements for Saint Lucian citizens
There is not much paperwork needed for a Saint Lucian resident to obtain an India visa.
Documents needed to apply for an India e-Visa include:
A passport-sized photo of the applicant, taken on a white backdrop and exhibiting a clear headshot.
A passport that's valid for at least six months and should have at least two blank pages. The passport should be scanned so that all important information is clearly shown.
Credit or debit cards are accepted forms of payment.
Remember that you might need to present additional documents if you select a type of Indian e-Visa other than the tourist one, as listed below:
An invitation letter from the host, as well as the host's ID card/passport (for a Business visa).
A medical letter from a hospital in India. To apply, attendees must have an e-Visa number from an e-Medical holder (for a Medical visa).
An invitation letter from the conference organizer and political clearance from the Government of India's Ministry of External Affairs (MEA) (for e-conference visa).
Apply for an Indian e-Visa From Saint Lucia
Completing an online visa application is the initial step toward obtaining an Indian e-Visa. All you have to do is fill out a few simple fields with your personal information, double-check your information to make sure it's correct, and then click the submit button to finish the application process.
After that, a confirmation email stating that your e-Visa application has been received will now arrive in the mail.
Finally, please remember to download and print at least a copy of your Indian e-Visa. Your passport will be stamped if you have a valid e-Visa.
Indian e-Visa fee for Saint Lucian citizens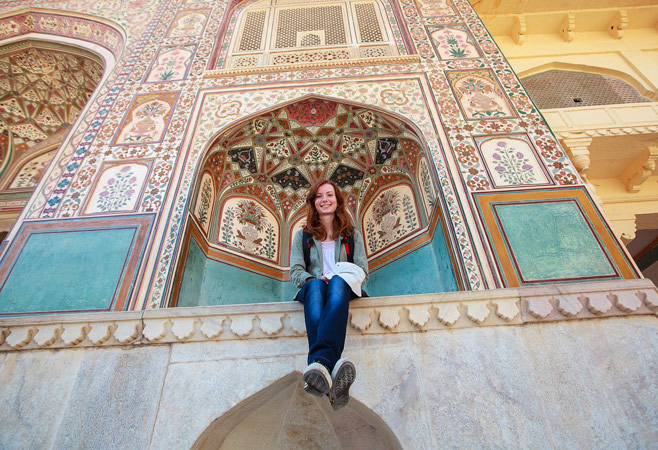 Indian e-Visa fees for Saint Lucian citizens
To submit an online application for an India visa, you must pay two India e-Visa fees: the service fee and the government fee. The government fee is the amount you have to pay for the India Immigration Department to provide your visa. The service fee is charged based on the visa service you use. Choose one of three service orders from the list below to pay the service charge:
Normal: If you choose this option, your e-Visa will be sent within three business days.
Urgent: If you use this service, you may expect to receive an e-visa for India within 24 hours.
Super Urgent: With this service, you can receive your e-Visa in as little as 5 hours.
You have two options for paying your bill: electronic payment (Visa, Mastercard, American Express, or PayPal) or direct deposit.
When traveling abroad, you should also pay a small price for COVID-19 insurance to maintain your benefits.