India e-Visa requirements for Zambian citizens
India has something for everyone, from snow-capped mountains to scorching deserts; lovely lakes to glittering beaches; spectacular palaces to glorious forts.
Tourists should visit India for a comprehensive and exhilarating experience, whether they are searching for a spiritual and healing vacation or an adventurous and thrilling journey. Enjoy the region's culture, food, and history, and explore a variety of places to get a sense of the vast country that is India.
Zambians have numerous legitimate reasons to visit India. They have family or friends who live there, or their business interests may take them there.
If you are a Zambian citizen and a trip to India is on your wishlist, now is the time to go for it. There is nothing easier than obtaining a Visa to India for Zambian citizens.
Applicants do not need to become involved in the complexity and sweat it out to visit an Embassy or make attempts to schedule appointments. All they have to do is apply for this travel document online, and they will be able to visit this country.
India e-Visa for Zambian citizens
The India e-Visa is a visa that is granted electronically by the Indian government. There is 4 type of Indian e-visas: 
Indian e-Tourist visa: used when you want to enter India for tourism purposes. With this type of visa, you can stay in India for up to 30 days from the date of your arrival and it cannot be extended or converted.
Indian e-Business visa: this type of visa helps you enter India for business but not for employment. You can stay in India for up to 365 days and can go in and out of India as many times as you want. Each period of stay shall not exceed 180 days.
Indian e-Conference visa: this e-visa type can help you enter India for a conference organized by the government. You can stay for up to 30 days from the date of your arrival, with single entry only.
Indian e-Medical visa: used when you need medical treatment in India. If you use this type, you can stay in India for up to 60 days with triple entry.
India visa requirements for Zambian citizens
In general, the application process for India e-visa for Zambian citizens is simpler, faster, and more money-saving compared to the casual type. You do not need to wait for hours at an embassy or spend much money to pay the application fee. All you need to do is to provide enough documents and pay the e-visa fee.
The following are some documents you will need to apply for an Indian visa as a Zambian citizen :
A Zambian passport that is valid for at least 06 months from the date of your arrival in India and a blank page to get an entry stamp.
A scanned copy of the passport personal information page.
The separate passport-size photo complies with government guidelines.
Travel itinerary: your detailed plan in India will be required. Therefore, it is highly recommended that you shall not confirm your tour or flight bookings before the e-visa is issued.
Side document: you will need to provide some additional documents related to your e-visa type. Take an e-Business visa as an example, if you want to get that e-visa type, you need to provide your invitation letter and/or your business card for verification.
Once you have submitted these documents, the procedure of acquiring a visa for Zambian people will be a lot easier.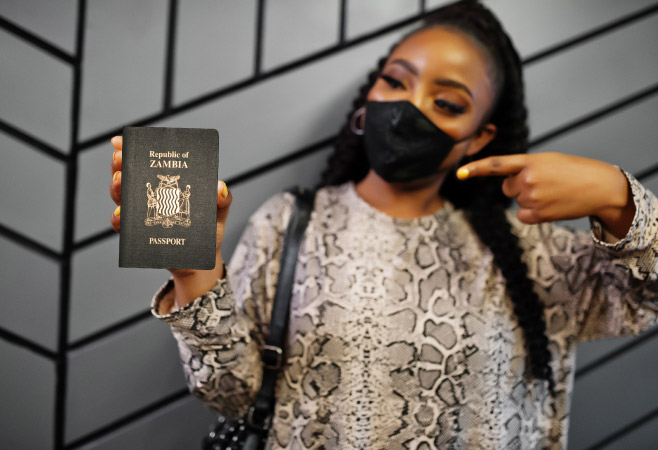 Zambians must have a valid credit/debit card while paying the visa fee online. Aside from that, they must supply their travel schedule and data, including flight ticket details for arrival and exit from India. These documents make obtaining an India visa a breeze.
Once these documents have been provided, you must pay for the visa online. This will bring your visa application to a close. Following that, the application form will be forwarded for processing.
You will receive your approved visa via email within one to three business days after your application has been processed. Make a copy of this document because it will be necessary when you travel to India.
India e-visa for Zambian citizens fee and payment method:
After providing enough documents and filling in the application form, you will pay a total fee to complete the application process.
The total fee of an India e-visa for Zambian citizens includes 02 kinds of fees: the government and the service fee. In addition, you can add a small fee for COVID-19 insurance to guarantee your benefits when traveling abroad.
For the government fee, since you are from Zambia, the country is not on the exemption list of India, you need to add this fee to your payment bill.
For the service fee, there are 03 options for you to choose from, depending on the processing time you wish:
Normal: you will get your e-visa result within 03 business days if you choose this service type.
Urgent: you will get your e-visa result within 24 hours in case this is your chosen type of service.
Super urgent: your request will be the top priority and the processing time will be cut off as much as possible. Therefore, your result will arrive within just 05 business hours.
Payment method: you can choose your suitable method: electronic transaction or wire transfer. If you choose electronic payment, consider using the following type: Visa, Mastercard, American Express, or Paypal.