India Mumbai Travel Guide For Everyone That Wish To Visit
By Mabel Collins
Welcome to Mumbai, a city that pulsates with life, diversity, and an undeniable energy that is both invigorating and enchanting. If you choose to read this article, you will probably want to visit Mumbai, India, on the next vacation. As you step into this dynamic metropolis - Mumbai, you're embarking on a journey that will unveil a captivating mix of ancient traditions and futuristic aspirations.
Here, you'll witness the must-visit attractions and some practical Mumbai travel guides to make the most of your journey to this dynamic marvel.
Where is Mumbai located?
Mumbai is located on the western coast of India. It is situated in the state of Maharashtra, specifically on the Konkan coast, overlooking the Arabian Sea. The city's strategic coastal position has contributed to its historical significance as a port city and a major hub for trade and commerce.
It is a city of dreams and realities, of aspirations and challenges, of colors and contrasts. As you embark on your journey through its bustling streets, historic sites, and cultural enclaves, you'll find yourself immersed in an experience that encapsulates the spirit of India itself—a harmonious blend of tradition and progress.
Mumbai Travel Guide: How to get to Mumbai?
Traveling to Mumbai is easy, thanks to its excellent transportation. Chhatrapati Shivaji International Airport welcomes travelers from all corners of the globe, while major railway stations like Chhatrapati Shivaji Terminus and Mumbai Central provide easy access via trains. The city's well-connected road network offers options for those arriving by bus or car. Once in Mumbai, diverse local transportation choices, from local trains to taxis, make navigating the city a seamless experience.
For international travelers, getting to Mumbai India must obtain a valid visa first. However, you are no longer required to visit the Embassy to obtain a paper visa thanks to an Indian electronic visa, which is processed and obtained online 100%. Travelers can now apply for an India e-visa with simple documents required and wait for at most 03 business days to get an e-visa via email.
For travelers who are already in India, there are numerous ways to go to Mumbai. Below are ways that you can refer to choose your suitable transportation. 
Before traveling, travelers should read on this Mumbai travel guide
Mumbai tourist guide - How to get from Goa to Mumbai?
Traveling from Goa to Mumbai is easy and offers multiple options:
The quickest way is by air, with flights between Goa's Dabolim Airport and Mumbai's Chhatrapati Shivaji International Airport. 

Trains are another option, providing both overnight and express services for those who enjoy a scenic journey. 

Buses connect the two cities as well, and driving offers a road trip adventure with changing landscapes along the approximately 10 to 12-hour journey.
 Mumbai city tour guide - How to get from Delhi to Mumbai?
Traveling from Delhi to Mumbai, two of India's major cities, is a well-traveled route with multiple transportation options to choose from:
By Air: The fastest way to travel from Delhi to Mumbai is by air. Indira Gandhi International Airport (Delhi) and Chhatrapati Shivaji International Airport (Mumbai) offer frequent domestic flights between the two cities. The flight duration is around 2 to 2.5 hours, making air travel a convenient option for travelers seeking to minimize travel time.

By Train: Trains are a popular and scenic option for traveling between Delhi and Mumbai. Several trains, including prestigious ones like the Rajdhani Express and Duronto Express, connect these two cities and take approximately 16 to 24 hours, depending on the train type and route.
How to get from Udaipur to Mumbai?
There are several ways to get from Udaipur to Mumbai. Here are the most popular options:
By air: The flight time is approximately 1 hour and 30 minutes, making it the fastest way to travel. There are several airlines operating this route including Air India, Vistara and IndiGo.

By train:This is a more scenic option and takes about 15 hours. There are several trains operating on this route including Udaipur City Express and Udaipur Shatabdi Express.

By bus: This is the cheapest option and takes about 18 hours. There are several bus operators operating this route including Rishabh Travels and Shree Parshwanath Travels.

By Taxi/cab: This is the most convenient option, but it is also the most expensive option. Taxi fares vary according to distance and time of day.
What to see and do in Mumbai?
Mumbai, a city of limitless contrasts and unending energy, beckons with a myriad of experiences waiting to be explored. This Mumbai travel guide unveils the treasures that await you in this vibrant metropolis, showcasing the must-see attractions and the myriad activities that make Mumbai an unforgettable destination.
See the Gateway of India
One cannot begin a Mumbai exploration without a visit to the iconic Gateway of India. Built during the British colonial era, this magnificent arch stands tall at the waterfront, welcoming both tourists and locals alike. The juxtaposition of the Gateway against the backdrop of the Arabian Sea creates a picturesque scene that is particularly mesmerizing during sunrise and sunset. It's not just a historical monument but a place buzzing with energy as street vendors, photographers, and tourists gather here to soak in the ambiance.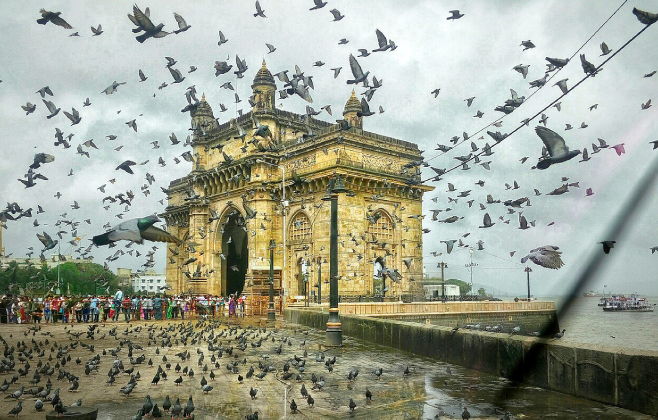 The Gateway of India
Marine Drive
Dubbed as the "Queen's Necklace," Marine Drive is a curving boulevard that hugs the coastline of Mumbai. The evening lights resemble a string of pearls, offering a serene yet lively atmosphere. It's a popular spot for locals to unwind, jog, or simply enjoy the sea breeze. A leisurely walk along Marine Drive is the perfect way to get a glimpse of the city's skyline while feeling the rhythm of Mumbai.
Chhatrapati Shivaji Terminus
Formerly known as Victoria Terminus, this historic railway station is a UNESCO World Heritage Site and a prime example of Victorian-Gothic architecture. The station is a testament to Mumbai's blend of modernity and tradition, as it remains a bustling transportation hub while retaining its architectural grandeur. The intricate carvings, towering spires, and stained glass windows make it a must-see for architecture enthusiasts.
Chhatrapati Shivaji Terminus
Elephanta Caves
A short ferry ride from Mumbai's shores leads to the captivating Elephanta Island, home to the UNESCO-listed Elephanta Caves. These ancient rock-cut caves house intricately carved sculptures and temples dedicated to Lord Shiva. The journey to the island itself is an experience, as you traverse the azure waters of the Arabian Sea. The main cave's colossal Trimurti sculpture is a highlight, showcasing the Hindu trinity of Brahma, Vishnu, and Shiva.
The Elephanta Caves
Bollywood Dreams: Film City and Dharavi
Mumbai is often referred to as the heart of the Indian film industry, Bollywood. A visit to Bollywood Film City offers a behind-the-scenes glimpse into the world of Indian cinema. You can explore sets, witness live shoots, and perhaps even catch a glimpse of your favorite Bollywood stars. On the other hand, a tour of Dharavi, one of Asia's largest slums, offers a unique perspective on the resilience and industriousness of its residents. Guided tours provide insights into the thriving small-scale industries and communities within the slum.
Extra Mumbai Travel Guide for first-time travelers
Mumbai is not merely a destination; it's an emotion. It's a city that thrives on contradictions, where historic landmarks coexist harmoniously with cutting-edge skyscrapers, and where age-old bazaars bustle alongside sleek shopping malls. Travel to another destination always needs a clear guide, this is the Mumbai tourist guide for all travelers who are going to visit this destination.
Best time to visit in Mumbai
Mumbai's summer is characterized by high temperatures, humidity, and stickiness. The best time to visit Mumbai is during its winter months, from November to February. The weather is pleasant and comfortable, with temperatures ranging from 15°C to 25°C. 
This period offers a respite from the city's heat and humidity, making it ideal for sightseeing, outdoor activities, and exploring its diverse attractions. The cooler temperatures and lower humidity levels of Mumbai's winter create a favorable environment for an enjoyable and memorable visit.
Mumbai India can be visited all year round
Where to stay in Mumbai?
Mumbai offers a diverse range of destinations to stay and experience the complete journey in Mumbai. Here are some popular areas to consider when deciding where to stay in Mumbai:
Taj Mahal Palace: An iconic luxury hotel overlooking the Gateway of India, known for its opulent interiors and impeccable service.

The Oberoi Mumbai: A sophisticated hotel with panoramic views of the Arabian Sea and top-notch amenities.

Trident Nariman Point: A well-appointed hotel with sea views, located in the bustling Nariman Point area.

Novotel Mumbai Juhu Beach: A beachfront property in Juhu offering comfortable rooms, multiple dining options, and recreational facilities.

Hotel Suba Palace: A budget-friendly hotel in South Mumbai's Colaba area, close to attractions like the Gateway of India
What to Wear in Mumbai
As usual, men can wear jeans and a T-shirt (or shorts are fine in Mumbai, but Indian men don't wear that much), so not much advice is needed.
What to wear in Mumbai for Women:
Many young women in Mumbai wear Western attire; skinny jeans are as fashionable as saris. Showing off your arms and shoulders is also OK, but avoid wearing thin-strappy shirts (thick straps are allowed) and show off your cleavage. Personally, I still cover my legs in Mumbai, but I've seen Western ladies in shorts going through Bandra (a bit of an expat enclave).
In the winter, I either wear a T-shirt and skinny jeans or a kurta/tunic top like this one with leggings or jeans. A scarf is always useful for covering up, covering your temples, or keeping warm in the air conditioning.
Packing essentials for Mumbai
Aside from Mumbai-appropriate attire, make sure you have the following items for your trip to Mumbai and the rest of India:
Travel insurance is a must-have in India. We utilize World Nomads; obtain a price and purchase yours here.
Travel adaptors - Type C and D plugs are used in India. To secure your gadgets, get a Multi-region adapter with surge protection.
To keep your belongings safe, we recommend a cross-body purse or handbag.
A padlock and chain are always useful for securing baggage and locking lockers at hostels, among other things.
A Grayl water filter bottle or a steripen + refillable water bottle for clean drinking water. More about our favorite selections may be found here. Remember to include an extra steripen filter and batteries!
In conclusion, Mumbai stands as a vibrant canvas where history, culture, and modernity converge. Hope this practical Mumbai travel guide ensures a seamless journey, while the city's contrasts and beauty make it an unforgettable destination. As you leave, Mumbai's essence stays with you—a blend of energy, diversity, and timeless charm.