Famous traditional dances of India you may want to know
By Jenna Jolie
India is a country with a rich and diverse culture, with more than 20 official languages, multiple religions, and different local cuisines. For many years, India has been one of the favorite destinations for international travelers.
When it comes to India, the beauty of the traditional dances of India isan integral part of its culture. Indian traditional dance styles are well-known throughout the world, and each region has different traditional dances. And for locals and international visitors, traditional dances of India are not just artistic activities or performances; they are a significant feature in the cultural panorama of India.
Eight traditional dances of India are recognized as classical dances
The question how many traditional dances are there in India is frequently asked by many international tourists. Let's keep reading to have a deeper understanding of eight traditional dances in India.
The culture and traditions of India are well-known throughout the world. With 1.2 billion people living in the country, India is a varied nation with unique languages, and distinctive cuisines. The country is also famous for various traditional dances which are recognized by Sangeet Natya Academy, the national academy of performing arts in India, as the ancient Indian dance. 
List some of the most important traditional dance forms of India
Traditional dances of India are not only body movements but also a combination of facial expressions, splendid costumes, dramatic makeup, and rhythms of traditional music.
Kathak - A storytelling dance form
Kathak is said to originate with the wandering storytellers known as Kathakars in North India. It is a type of traditional dance from Uttar Pradesh. Kathak is commonly known as the dance of love because both male and female dancers perform it together. They perform in the form of storytelling through their body movements.
Kathak is one of the traditional dance forms of India that focuses heavily on ankle movements with complex movements. Dancers wear bells around their ankles to accentuate the dance and then immerse themselves in the beats of the music.
Kathak is a storytelling dance form and one of the traditional dances of India
Bharatnatyam - The oldest dance form in India
The state of Tamil Nadu in South India is believed to be where Bharatanatyam first appeared. The origins of Bharatnatyam can be traced back to 1000 BC and were first performed by women in Tamil Nadu's ancient temples. Bharatanatyam is a combination of hand gestures, foot movements, and the dancer's facial expressions. Dancers show beautiful body movements and gestures called "mudras" in the traditional language. Bharatanatyam costumes are artistic, giving the dancers great comfort for an excellent performance. In addition, heavy jewelry and makeup are essentials for Bharatnatyam dancers.
Bharatanatyam is among the oldest traditional dances of India. It was very popular before the British colonial period. However, this dancing style experienced a severe decline throughout the colonial era. Fortunately, India still keeps this dance in the houses, and now it is regarded as one of India's most revered art forms.
Bharatanatyam is the oldest dance form in India
Kathakali - The traditional dance-drama from Kerala
One of the traditional dance forms of India that relates to storytelling is Kathakali which originates from the state of Kerala. In India's language, Kathakali translates to the 'storyteller'. The stories from the Ramayana and Shaiva traditions serve as their primary sources of inspiration.
Kathakali performers typically dress in colorful costumes with enormous headdresses and wear especially elaborate makeup. The dancers only use their body language to communicate with each other and facial emotions to convey the epic Hindu mythology tales that portray both good and evil.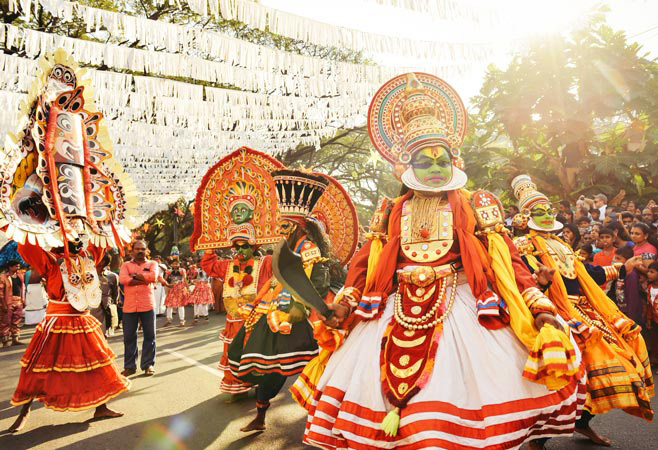 Traditional Kathakali dance at the New Year carnival in Fort Kochi (Cochin), Kerala, India.
Kuchipudi - The most difficult dance form in India
Kuchipudi is perhaps the most difficult of all traditional Indian dances form. It is not only a dance but also a religious procedure dedicated to God, including rituals such as sprinkling holy water, burning incense, and praying to God. 
Unlike other traditional dances of India, Kuchipudi performers need to be able to both sing and dance. This is the reason why Kuchipudi requires both skill and more dedication than any other Indian art form. When performing Kuchipudi, the male dancer wears a dhoti, and the female dancer wears a vibrant sari sewn with pleated fabric that unfolds like a fan. They usually wear light makeup combined with some traditional jewelry. After that, they display beautiful footwork together.
Kuchipudi is perhaps the most difficult dance form in India
Manipuri - Dance of grace from the northeast
Manipuri comes as a significant emblem to represent the state of Manipur. Its origins are from this state's folk traditions and rituals, and it often narrates the romantic relationship between the Hindu gods Radha and Krishna, known as Raas Leela. In sharp contrast to the other traditional dance forms of India, Manipuri is known for its beautiful and fluid motions. Male characters typically have more powerful movements, while female characters tend to be fluid in their arms and hands.
The primary musical instruments used in this dance form are the flute and drum. This art form is performed with Manipuri traditional costumes and makeup to tell the story of the two gods. Narrative chanting and choral singing may accompany the dance.
Manipuri dancers is portraying Krishna's character
Useful information for entering India to explore these traditional dances
We all think of India's traditions and customs as something quite varied and distinctive. To truly understand the depth of Indian culture and history, travel is the key.
It's worth arranging a trip to India to discover the uniqueness of Indian traditional dances. Don't forget to prepare all the essential things beforehand to enjoy Indian culture fully, one of which is a valid Indian visa. Don't worry, an Indian visa can be applied for online. Indian Immigration Services can help international travelers obtain an online visa easily without waiting in a long line at the embassy or consulate. Travelers simply remain at home and apply for an India eVisa remotely. 
In case you have any questions regarding the visa, including cost, requirements, and process, you can contact us anytime. Our 24/7 service is happy to help you.