Reasons To Visit India: A Diverse and Enchanting Destination
By Mabel Collins
Many people have heard of India, but you must see it for yourself and take a journey to Amazing India at least once. India will make a lasting imprint on you, and you will never be the same again! India is no longer associated with snake charmers and holy cows. A country of contrasts and mysteries, Colombia is now on the tourist map for its progressive cities, unspoiled hamlets, huge mountains, beautiful valleys, dense forests, and blue beaches.
Everyone should visit India at least once in their lives. It is a country of exceptional diversity, rich in history, cuisine, and artistic legacy, that is most vibrant in color. Religion, spirituality, and medicine have long played important and interconnected roles in India's ancient civilisation. In this article, we'll explore reasons to visit India and some extra information before traveling. 
10 Reasons To Visit India 
These are just a few of the compelling reasons to include India on your travel bucket list. Below are the top 10 reasons to visit India right away. Let's find out! 
1. Rich History and Culture
This historical treasure will captivate history buffs. India is a country that has 40 UNESCO World Heritage Sites. All of these fantastic sights, whether medieval forts, ancient rock carvings, archaeological sites, or iconic monolith monuments, are steeped in history. 
India's rich and fascinating history is still visible in its architecture, art, and traditions. A diverse range of cultures has shaped India and influences from the ancient Indus Valley Civilization through the Mughal Empire and the British Raj. Visitors can explore historic sites like the Taj Mahal, the ancient ruins of Hampi, and the beautiful forts and palaces of Rajasthan to get a glimpse of India's rich past.
India is one of the countries that has become popular because of its multi-cultural 
2. Delicious Food
India is divided into 29 states, and each state has its own culinary and serving style. Indian cuisine is a fusion of culinary practices used by Hindus, Muslims, Portuguese, Persians, and Brits, which have been combined with indigenous cooking methods to produce distinct meals.
Indian food is well-known for its rich flavors and spices, and visitors to India can enjoy a wide variety of dishes. Probably no other country can match India's culinary diversity. Beyond the conventional staples like chicken tikka masala, rogan josh, malai kofta, and tandoori butter naan, which may often be tougher to obtain in India than in the UK, there's a buffet of wonderful regional delicacies to be explored from Kerala to Kolkata.
3. Cultural diversity
Situated on the spice route and a significant commerce center of the ancient world, foreign monarchs and European kingdoms, in addition to native Hindu kings, had built their empires in India. As a result, India has a heritage of distinct customs, language, dress, and music that they continue to retain to this day. Visitors can explore the unique customs of different regions and communities, from the tribal cultures of the northeast to the colorful festivals of the south. 
Each state in India also has unique conventional art forms, such as Madhubani paintings in Bihar, Tanjore style in Tamil Nadu, and Pattachitra in Odisha, reflecting the country's distinct identities. Tourists seeking out-of-the-box experiences are attracted to India's cultural potpourri, making it one of the reasons to visit India. 
4. Spiritual Journey
India is an ancient nation that gave birth to the world's greatest spiritual takeaways for the mind and body. The banks of the sacred rivers and the caverns of the remote highlands are alive with energy. Saints, seers, and yogis have been attracted to these locations for thousands of years to harness that energy. Several people in this mystical place have boasted about their financial and spiritual transformations from rags to riches.
India can be seen as the land of spirituality and is home to many religious and spiritual practices. Visitors can immerse themselves in the peacefulness of ashrams, experience yoga and meditation, and even join in on religious festivals like the Kumbh Mela or Diwali. 
The reasons to visit India you can consider is the peace of mind
5. Stunning Landscapes
India has a diverse range of physical characteristics. The mountains surround the north, and the foothills are among the most fruitful areas on the planet. The Thar Desert, located in the country's west, is the driest region, whereas the southern peninsula features a large stretch of coastline. Each of these places features stunning scenery and a wide range of adventure activities, which create another one of the reasons to travel to India.
6. Adventure Activities
The Himalayas offer some of the most gorgeous roads in the country, and among the activities and experiences available include paragliding, trekking, hiking, and walking on live root bridges. The Leh-Ladakh area is located on the Himalayan leeward side. A stunningly gorgeous image is created by the mix of towering mountains, snow, desert, and turquoise lakes, which helps travelers enjoy the beauty during the whole experience. 
Moreover, Rishikesh, located in the Himalayan foothills, has become a popular destination for river rafting and zip-lining. As a result, it has many activities for those who love experiencing adventurous sports.
7. Warm Hospitality
"Atithi Devo Bhava" - This is a common line; it means " Guest is equal to God", especially since India is famed for its warmth, kindness, and hospitality - the essence of hospitality - as well as its massive travel and tourist sector, which welcomes visitors from all over the world. Visitors are often welcomed with open arms and treated like family. Homestays and guesthouses are a great way to experience this hospitality firsthand and get a glimpse of daily life in India.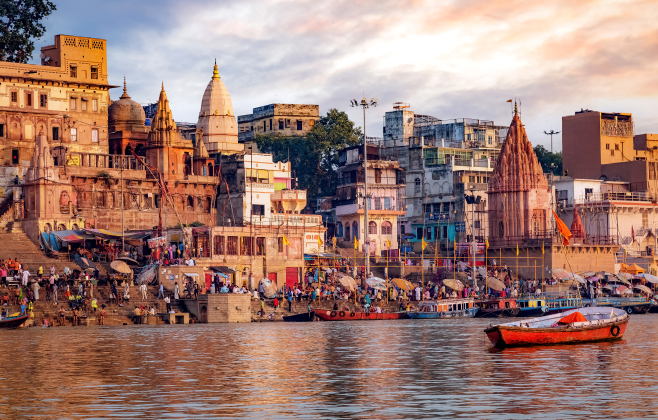 International visitors are all welcomed when traveling to India
8. Festival and Celebrations
One of the reasons to visit India is their unique festival and celebrations. There are hundreds of various kinds of festivals in India, each with its own deeper significance. These festivals are dedicated to Hindu gods, lunar phases, or the harvest. During any festival season, the country is at its most zealous. Many opted to go expressly for these events in order to fully appreciate the country's rich history.
Festivals in India are celebrated throughout the year, from Holi – the festival of colors – to the Pushkar Camel Fair and the Jaipur Literature Festival; travelers can learn about the significant culture and participate in lively performances during the festival. 
9. Wildlife Safaris
Not all of India's beauty may be found in its bustling cities and ancient sites. India is a favorite destination for wildlife aficionados, with its 40,000 square kilometers of national parks filled with unique kinds of rare birds and creatures seldom seen outside of a zoo. 
Wildlife in India is abundant, including exotic sanctuaries, tiger reserves, and snow animal habitats, as well as a diverse range of animals from a variety of environments. The country is recognized for its diverse wildlife, which includes amphibians, mammals, reptiles, and fish from marshy places, dry sand dunes, and even frozen snow and water.
10. Blue Flag Beaches
A vast territory of various states is covered with numerous beaches. Goa is a tiny state which is recognized as India's beach capital.
India achieved history by being the first country to have all eight beaches granted the Blue Flag in a single attempt. On September 21, 2021, it was disclosed that this country has once again succeeded in earning the Blue Flag certification certificate for two additional beaches on India's blue flag beaches list. 
You can take a glance at Eco-Friendly Beaches In India that are winning the blue flag award! 
India has many beaches that achieved the Blue Flag certificate
Extra Information For Visitors Traveling To India
There are several reasons to visit India, and these are just a few of the most important. What is certain is that a trip to India will leave you with many wonderful memories and may entice you to return for more.
The most special thing about India is the tranquil nature. It is the most effective approach to cleansing your mind and spirit. Spend time in nature's beauty near waterfalls, calm lakes, hill stations, snow areas, and so on. And maybe these are reasons to go to India for many international travelers. 
Begin planning your vacation to this intriguing Asian nation immediately with Indian Immigration Services. With the help of our well-designed system, travelers can now apply for an Indian e-visa with a simple click. Remember to check your eligibility in order to be sure that you are qualified to obtain an e-visa. Within a few days, travelers can have the chance to visit India and experience a one-of-a-kind country with its variety of history and cultural heritage. 
Through this article, we believe that you have decided on your mind and found your own reasons to visit India. If you have any questions, please contact us for help at any time. Now let's pack your bags and take a flight to India now; we hope you will have a nice trip!