Discover The Eco-Friendly Beaches In India Winning The Blue Flag Award
By Jenna Jolie
When it comes to India, it is impossible not to know that this country is famous for Buddhism and its beliefs. But only some people know that India is also a place that is endowed with beautiful beaches with golden sand. Traveling to India, you will see everything from bustling megacities to deserted deserts without people, from cold mountains to idyllic beaches.
Are you planning to visit a beach or a seaside resort this year? Do you like to enjoy the sun without the crowds? Here is a list of beaches in India for your reference. These have been granted the renowned Blue Flag international eco-label.
What is the meaning of blue flag beaches in India?
What is Blue Flag? Many people who first listen to this word need help understanding the blue flag certificate or why it is called blue flag beaches in India. The Blue Flag certification marking a country is one of the world's most prestigious awards, given exclusively to the cleanest and most environmentally friendly beaches worldwide.
The Foundation for Environmental Education created the Blue Flag system in 1987, a globally recognized award for the best beach environment. With this award, you can expect a beach with high water quality, biodiversity, and swimming safety. The aim of this system is to emphasize the tight bond between humans and the environment.
One of the beaches in India that meets Blue Flag certification standards
India made history on October 6, 2020, when it became the first country to have all eight beaches awarded the Blue Flag in a single attempt. On September 21, 2021, it was revealed that this country has once again succeeded in obtaining the certificate of Blue Flag accreditation for two more beaches in the blue flag beaches list in India.
To achieve Blue Flag status, India has met a total of 33 criteria relating to environmental education, information provision, water quality, and safety management. Beaches in India have made a leap in serving travelers who come to this country for a relaxing vacation by the sea. We will guide you through the list of beaches in India which are awarded Blue Flag certificates.
Top beaches in India coveted Blue Flag Award
India boasts many beautiful beaches that are sure to leave you in awe. Here are some famous beaches in India that you should not miss. If you are looking for a quiet, clean and peaceful golden sand beach, this is an excellent choice for you when coming to India. You will indeed feel amazed and delighted. Indian Immigration Services will support you in designing your trip to the best beaches in India without any difficulties.
Kovalam Beach
The well-known Kovalam beach is made up of three adjoining crescent-shaped beaches. Travelers have made it their preferred hangout since the 1930s. Until 2021, Kovalam was the newest beach on the list of top beaches in India which has clean water and breathtaking views. A massive rocky protrusion created a beautiful harbor with calm waters ideal for swimming on the beach.
Sunrise in Kovalam beach - One of the blue flag beaches listed in India
Tourists may stay in five-star or inexpensive hotels in Kovalam, where cafeterias and restaurants serve everything from Continental fare to South Indian specialties. This makes the beach a favorite destination for domestic and international tourists who want to enjoy sand and sun in this region of India.
Radhanagar Beach
Radhanagar beach is one of Asia's most stunning beaches, not only in India. Being the seventh place for the most beautiful beach in the world, it draws many tourists' attention due to its breathtaking beauty. Radhanagar beach is also one of the cleanest beaches in India, where it was awarded a Blue Flag certificate. With thick flora around it, its gentle waters appeal to both outdoor enthusiasts and nature lovers, offering a variety of water sports and many activities such as scuba diving, swimming, snorkeling, etc. However, it is not allowed to swim after sunset. It is also a famous place for couples to spend their honeymoon on this beautiful beach.
Radhanagar Beach is one of the top beaches in India for tourists
Puri Beach
Located in the Indian state of Odisha, the city of Puri has a beach known as Puri Beach or the Golden Beach, with roaring surf and lovely golden sands. It gives those with a sense of adventure a chance to take on the sea waves. Since you can't miss the views of the dawn and sunset, it is one of the spots you must visit in Puri.
Enjoy the blue water, and calm sea waves of Puri beach at sunset
Rushikonda Beach
The Bay of Bengal coast near Visakhapatnam, in the Indian state of Andhra Pradesh, is home to the breathtaking Rushikonda beach, dubbed the "Jewel of the East Coast." The beach maintains its reputation as an environmentally friendly destination while being a popular tourist destination. Rushikonda Beach, which is surrounded by lush vegetation, is picture-perfect and draws a large number of environment enthusiasts. Rushikonda Beach is the ideal location to engage in water activities, including swimming, water skiing, and windsurfing, due to its extended length of the sea.
Rushikonda beach is well-known for its natural beauty - One of the best beaches in India
Kappad Beach
Kappad beach is one of the most famous beaches in India for winning the Blue Flag award. It is located far away from Calicut 16 km, which is isolated from the city's bustle, giving it the perfect beach vacation spot for relaxation. Coconut plantations around the beach, extensive expanses of white sand, lathered surf that lazily washes up and down the coastlines, and fantastic rock formations on all sides. All of these things make Kappad more appealing to all tourists.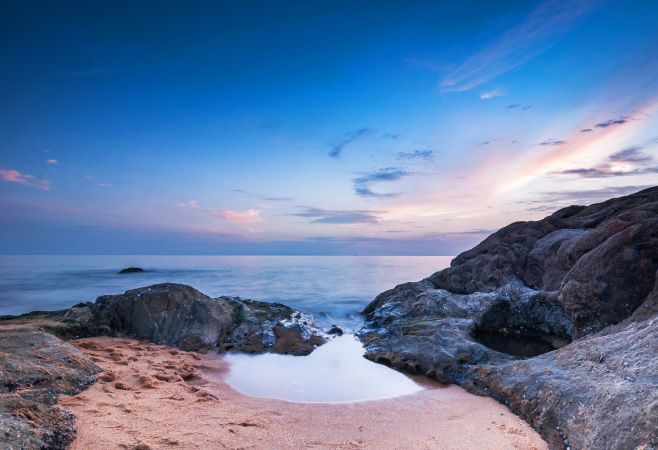 Kappad beach has the cleanest water and a peaceful view
Ghoghla beach
This prominent tourist destination is regarded as having the most gorgeous beach in the Gujarat area. It was awarded the Blue Flag at a ceremony hosted by an international jury in September 2021. This site is popular with tourists who wish to swim in the surf before exploring what remains of Diu Fort, a medieval castle that protected the city until 1961. There is plenty of hotels in the adjacent city of Diu.
Shivrajpur Beach
Shivrajpur offers an experience akin to the Santa Monica Pier. Just 15 minutes north of Dwarka, the settlement is nestled between a lighthouse and a rugged yet white-sand beach. After getting certification in October 2020, people will flock to the lovely beach to take in the scenery and learn about its sustainability. Shivrajpur beach provides a respite from your agenda while you tour the fabled temple town, which is full of ancient culture, pilgrimage sites, and temples that span the ages.
Kasargod Beach 
You would believe that red rocks are only found in the dry American Southwest, but Kasargod Beach has sand with that unusual tint. It's a stretch of environmentally friendly beach in Kerala that will be accredited in October 2020 after completing water quality, safety, and environmental management exams. If you enjoy photographing lighthouses, this one will not disappoint. It, like Ghoghla, draws discerning visitors – there aren't many madding hordes here.
Eden Beach
Eden is the first beach near Tamil Nadu to be awarded the coveted Blue Flag in September 2021 for its sustainable boating operations and tourism activities. This beach in Puducherry features an 800-meter safe swimming zone, as well as a bathing room and tourist restrooms among the stores and kiosks.
Tips for traveling to India:
Traveling to India and getting lost in the famous beach paradise once in a lifetime is a dream of everyone. Many travelers wish to touch their feet to discover the beauty that nature bestows here. But not to worry since visiting India has not been a concern for tourists owning to the electronic visa system. Applying for an e-visa is the fastest way to have the chance to travel to India. In addition, we are providing Travel Insurance for travelers who come to India in order to ensure the safest journey. We hope you will have a meaningful trip with unforgettable memories in this mysterious and beautiful Asian country.