Diwali - Light Up Your Soul With India's Festival Of Lights
India is a country full of colorful and meaningful festivals. One of the most significant festivals here is India's festival of lights, where people can worship gods and gather together. Let's see what this festival is all about!
1. What to know about Diwali festival of lights
Diwali is India's festival of lights of the year to celebrate the victory of light over darkness, goodness over evil, knowledge over ignorance. This is the most important traditional festival to pray for wealth and prosperity, which is widely celebrated by Hindu throughout the world.
Most people associate Diwali with a celebration of lights. This festival comes from the mythical beliefs about the god of the Hindus. In some places, the Diwali festival of lights is also celebrated to commemorate King Rama. Moreover, Diwali is the occasion for people in India to feel the warm festive atmosphere, get rid of hatred and pray to gods for good things.
Couple lighting oil lamps together to celebrate Diwali
Before the Diwali night, Hindus refurbish and decorate their homes and offices with candles and oil lamps. On this occasion, people wear their beautiful clothes, lighting lamps inside and outside their homes, along with rituals to worship the gods, including the goddess of Lakshmi - symbol of wealth and prosperity. After seeing celebratory fireworks, people always gather together for a family dinner and exchange meaningful gifts.
According to tradition, on the night of India's festival of lights - the night considered as the darkest moon of the year, Indians pour oil into clay lamps to light and leave it all night long to welcome Goddess Lakshmi. But nowadays, clay lamps are replaced by strings of electric color lights that hang around the house. The Diwali festival cannot be without candles and fireworks to ward off evil spirits and welcome the return of King Rama after many years of exile.
2. Discover best place to celebrate Diwali in India
In India, people in different locations will have different ways of celebrating festivals. Let's find out some places for people to enjoy the fullest the festival of lights:
Varanasi
An endless stream of firecrackers and fireworks are set off all night long on the festival's main day in Varanasi which is one of India's sacred tourist destinations. Throughout the five days of festivities, clay lanterns and diyas are strung along the stairs and the streets close to Ganges River, lighting up the entire city. If you stay back for some more time in Varanasi, you will have the chance to explore the bizarre places where traditional clothing and sweets are sold.
Katik Purnima festival takes place during Diwali
Jaipur - Udaipur
Jaipur looks wonderful when the streets, houses and markets are painted with colorful pink sandstone walls during Diwali. The markets in Jaipur come alive with many stores which display traditional artifacts and street food, making the city become the best place to celebrate Diwali in India. Moreover, tourists can witness some performances of folk music that are held along the street. Besides, you will definitely fall in love with the stunning Udaipur river, which sparkles with the reflection of fireworks and palace lights.
The palace by the Udaipur river
Kolkata
Kolkata is the City of Joy where they worship the Goddess Kali whose ability to destroy the ego and illusion in reality. When you visit here, you can witness the unique and detailed offerings to the Goddess including meat, flowers and sweets. The entire city comes alive when you can watch fireworks almost every corner of the street.
The statue of Goddess Kali
Goa
Goa is another amazing tourist destination to visit during Diwali festival. Locals construct many large-size Narakasura effigies which are filled with lanterns and grass, then burn them in the early morning. In addition, gambling has become a significant part of the Diwali festivities of Goa, travelers may try their luck in top casinos there.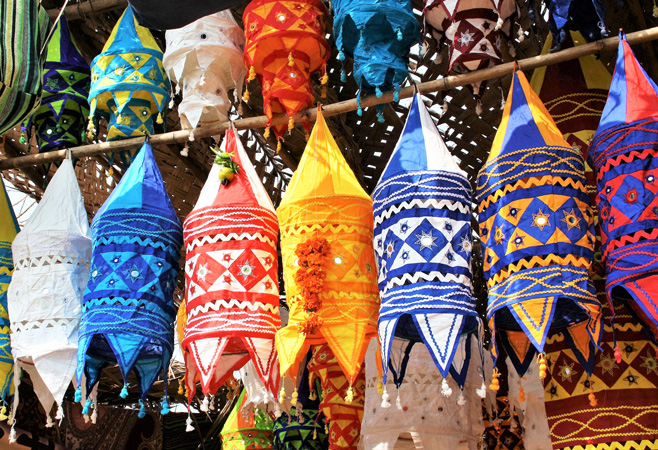 Lanterns are hung during Diwali
Besides the places mentioned above, there are many other places where you can celebrate Diwali in India 2022. If you are traveling to India, let's take a look at Top 3 places for a wonderful trip to make your journey more exciting.
In order to make your trip much better, just add promo code "DIWALI22" to gain the incredible discount 40% OFF for Visa service fee.
The program is available from October 10th, 2022 to November 6th, 2022.
If you haven't had a Visa yet? Don't hesitate to apply for a Visa now at the Indian Immigration Service. You can obtain an e visa entirely online anytime and anywhere with just a smartphone. This process will take 3 working days to get an e visa and you will have the best experience in India ever.
Pack your bags and let's explore a wonderful Diwali - India's festival of lights.