Top 5 best national parks in India for your travel in 2022
By Jenna Jolie
If you want to observe wildlife in their natural habitat and witness the majestic landscape first-hand, it might be time to plan a tour of India's national parks. The national parks in India are famous for nature lovers with a wide range of climatic diversity and geographical. These parks are scattered around different areas and are home to some rare species of animals and plants worldwide.
Checklist the top 5 national parks in India to get started for your wild India explorations.
List of national parks in India you must visit
India is a perfect destination for tourists who wish to make a leisure trip.Tourists can enjoy the fresh air and explore nature here. In this article is a list of national parks in India so that visitors can freely choose the destination according to their preferences.
1. Corbett National Park
This is India's first national park and a famous refuge for the imposing Bengal Tigers as well as for most other types of wildlife. The park was established in 1936 and has been named after the popular British hunter, Jim Corbett. Corbett National Park is one of the top national parks in India for tourists who wish to have an Eco tour with interesting natural experiences. It attracts adventure-loving tourists from all around the world because of its beauty and wilderness.
Tourists can book jeep safaris for early morning or afternoon viewing around the park. In addition, tourists can also hire a local guide to make the trip more enjoyable.
Bengal Tiger from Corbett - One of the top national parks in India
2. Kaziranga National Park
This prestigious national park of India is located in the Northeast state of Assam. Kaziranga National Park, famous as a UNESCO World Heritage Site, is the only refuge in India for the endangered one-horned rhino.
The park is also the habitat of several endangered species, including Asian elephants, Bengal tigers, sloth bears, Gangetic dolphins, and many migratory birds. Tourists can enjoy exploring wildlife on a Jeep Safari or Elephant Safari. We highly recommend carrying binoculars for the best experience of the Safari.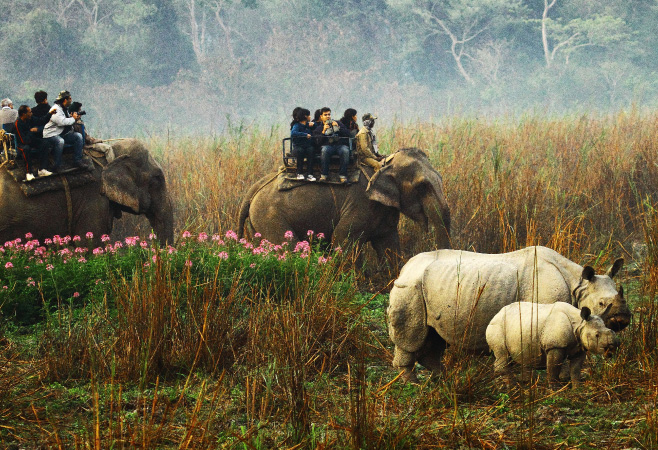 An elephant safari in Kaziranga National Park of India
3. Sundarbans National Park
Sundarbans National Park, one of the largest national parks in India, is formed by the Ganges and Brahmaputra River deltas in the Bay of Bengal. This large mangrove reserve with a rich ecosystem, making it one of India's most popular national parks and wildlife refuges.
In addition to the diverse and spectacular flora, Sundarbans National Park also hosts much rare and endangered wildlife. Travelers can spot Bengal tigers, Ganges river dolphins, saltwater crocodiles, Olive Ridley turtles, wild boars, leopard cats, and various kinds of mammals and reptiles, along with a wide range of resident and migratory birds. Visitors can explore the park by boat; Jeep Safari or walking tours are unavailable here.
Learn more: How to apply India eVisa for international travelers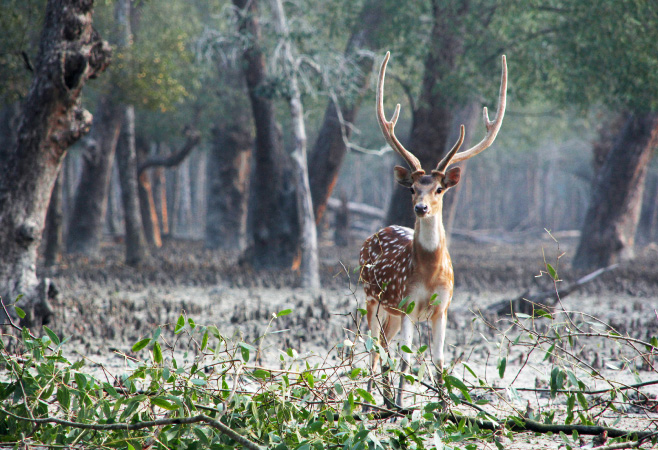 A big Spotted male deer in the Sundarbans - One of the largest national parks in India
4. Gir Wildlife Sanctuary
The only place in India where Asiatic Lions are found, Gir Wildlife Sanctuary, is located in the western state of Gujarat.
When coming here, visitors not only have the opportunity to witness the King of the Jungle with their own eyes but also other animals such as leopards, Sambar deer, Nilgai, Chinkara, and Chausingha.
The Gir forest is a great place to go bird watching, with more than 300 species. You will have the opportunity to see flamingos, woodpeckers, and a wide variety of other species here.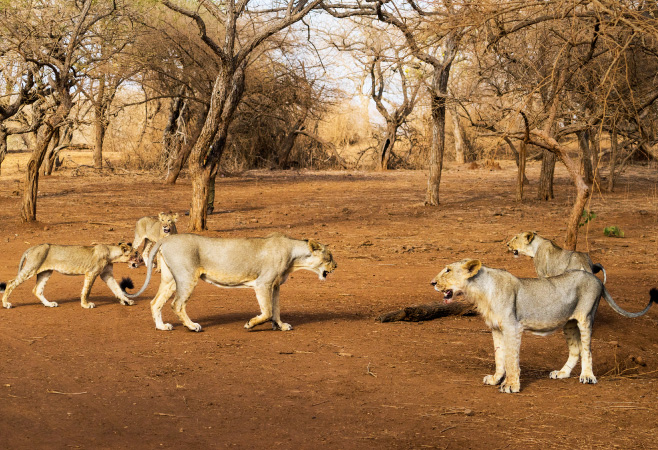 Lions at Gir National Park
5. Ranthambore National Park
Ranthambore National Park is one of the best national parks in India, located in Sawai Madhopur in Rajasthan. It is popular with majestic tigers and many other predators. The natural beauty and historical ruins that the park presents are among the tourist attractions that are worth visiting.
Tourists cannot miss the ancient fort built in the 10th century and Padam Talao Lake inside the park. Ranthambore National Park was the famous former hunting grounds of the Jaipur Maharaja, who built Sawai Madhopur; nowadays, its landscape is a destination that attracts tourists who love wildlife and many photographers around the world.
Tigers in Ranthambore - Among the best national parks in India
Best time to visit national parks in India
India tourism attracts visitors through world-famous heritages, unique culture, and bestowed natural beauty.
In July, August, September, and until about mid-October, most national parks in India can close for the monsoon season. Therefore, tourists should check the information before boarding the plane to visit India.
From October to February, the weather in India gets cooler and drier, which is the most popular time to travel. Pleasant weather makes exploring nature more attractive than ever. For wildlife lovers, there are many beautiful destinations at the moment. Moreover, all national parks are open during this time, allowing you to choose your wildlife destinations freely.
Useful information to explore these national parks in India.
Before you visit India, you need to check if your country is on the list of visa-exempt countries in India. If you are not a citizen of one of these countries, you need a visa to enter India legally. But don't worry, visas can be applied for online. You do not need to wait for hours at the Embassy or Consulate anymore, as you can apply for a visa remotely at your convenience. With a team of professional staff and many years of experience, Indian Immigration Services will help you get an India visa quickly.
If you have any questions about the India e-Visa or want to double-check the India e-Visa requirements. Please contact us now, we are happy to help.
Frequently Asked Questions About National Parks in India
Are you still perplexed? See if the following frequently asked questions might help you decide:
1. Which is the oldest national park in India?
The oldest national park in India is the Hailey National Park, now known as Jim Corbett National Park. It was established in 1936 and is located in the Nainital district of the Indian state of Uttarakhand. Jim Corbett National Park is known for its rich biodiversity, including a variety of flora and fauna, and it is particularly famous for being a haven for the endangered Bengal tiger. It serves as a major tourist attraction and a significant conservation area in India.
2. How many national parks are there in 2023 in India?
There are 106 national parks in India, spanning an area of 44,402.95 km2, or 1.35% of the country's geographical area (National Wildlife Database, Jan. 2023).
3. Is it the smallest national park in India?
South Button Island National Park in the Andaman and Nicobar Islands is the smallest National Park in India.
4. Which national parks in India for tigers?
India is home to several national parks that are known for their tiger populations. Here are some of the prominent national parks in India where you have a good chance of spotting tigers:
Jim Corbett National Park, Uttarakhand
Ranthambore National Park, Rajasthan:
Bandhavgarh National Park, Madhya Pradesh
Kanha National Park, Madhya Pradesh
Sundarbans National Park, West Bengal
Tadoba Andhari Tiger Reserve, Maharashtra
5. Which are famous national parks in northeast India?
Some of the well-known national parks in North-east India are Kaziranga National Park, Namdapha National Park, Orang National Park, and Nameri National Park.
6. Which is India's biggest national park?
The largest Indian national park is Hemis National Park in Jammu and Kashmir. It has an area of around 3350 square kilometers. There are a variety of animals there, including elephants and deer.
7. Which is the biggest tiger national park in India?
Kanha Tiger Reserve is India's biggest national park. It is situated in Madhya Pradesh's Umaria district. It was designated a national park in 1986 to protect the endangered Bengal Tiger.
8. Which state of India has the maximum number of national parks?
Madhya Pradesh in India has the most national parks. It is home to 96 national parks and 510 wildlife refuges. Animals such as the striped hyena, Indian fox, jungle cat, and golden jackal can be found.