Restricted Areas In India For Foreign Tourists
By Jenna Jolie
India, known for its cultural, religious, and culinary diversity, has been one of the top destinations for travelers worldwide. However, when traveling to this vast land, you should be aware of the restricted areas in India where you must obtain a special permit to visit. Here is useful information about restricted areas in India for foreign tourists.
Restricted areas in India for foreign tourists
Why Are There Restricted Areas In India?
Many tourists visiting India have the same question "why are there restricted areas of India". And the answer given is the Indian government's concerns over national security. Even citizens in this country who are not residents of restricted areas in India need to have an Inner Line Permit (ILP) to enter these locations legally. Inner Line Permit (ILP) is an official travel document issued by the concerned state government to allow inward travel of an Indian citizen into a restricted area for a limited period. It is obligatory for Indian citizens from outside those states to obtain a permit to enter here.
Useful Information For Tourists About Restricted Areas In India
With India's continuous increase in niche tourism, a rising number of foreign visitors venture out to the more exclusive parts of the country, such as the restricted areas in India for foreign tourists. You can learn about these special locations in India here.
Restricted Areas In India You May Not Know
India has a number of regions that are designated as "Restricted Areas". These include:
Andaman & Nicobar Islands - Entire Union Territory.
Sikkim - Part of the State.
Restricted Area Permit For India
In 1963, the Indian government required non-Indians to obtain a Restricted Area Permit (RAP) to visit certain restricted areas in India. 
A Restricted Area Permit is typically available for individual visitors and can be issued by:
Indian Embassy/ Consulates abroad.
Immigration officer.
Ministry of Home Affairs, Government of India, Lok Nayak Bhawan, New Delhi
All Foreigners Regional Registration Officers (FRRO) are located in Dehli, Mumbai, Kolkata, Chennai, Amritsar, Hyderabad, and Bangalore or the police station in Gangtok, Sikkim.
Citizens of India do not need this special permit to visit restricted areas.
Every foreign citizen, except Bhutanese citizens, who wish to enter and stay Restricted Area in India, is required to obtain a special permit from an authority to which the Ministry of Home Affairs (MHA) has delegated responsibility. A RAP application needs to be submitted at least four to eight weeks prior to the anticipated visit date.
Citizens of Afghanistan, China, Pakistan, and foreign nationals of origin in these countries shall not be issued a Restricted Area Permit if they do not get the prior approval of the Ministry of Home Affairs. 
If a foreign citizen plans to travel to a location in restricted areasfor activities other than travel purposes on a Visa other than Tourist Visa, prior approval from the Ministry of Home Affairs is required before granting a foreigner a Restricted Area Permit (RAP), and grant of a RAP for a specified reason (such as business, employment, studies, etc.) will be endorsed on the foreigner's passport.
Additionally, prior reference with the Ministry of Home Affairs is required if a foreign citizen plans to visit a location inside the Restricted Area in India that is not open for tourism on a Tourist Visa. However, if a foreign person is in possession of a visa other than a tourist visa and plans to travel only in the restricted area, he or she may be granted a Special Permit for locations opened for tourism.
Please note: These permits are typically issued to tourists. However, in the case of foreigners traveling for business or employment in these areas, in addition to the RAP, they need to apply for a special permit that allows them to conduct related business or work activities.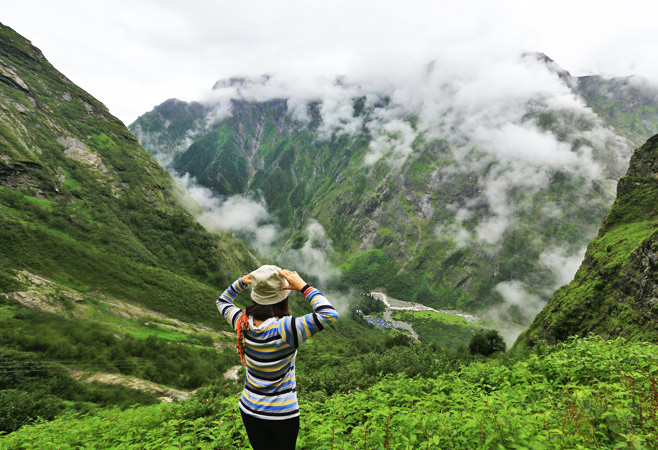 Tourists need a permit to enter restricted areas in India
Useful Information To Explore Restricted Areas In India
Best time to travel around India
India is a vast country with diverse weather conditions. And the best time to visit here is in the winter, from December until early March, when the weather is more likely to be warm, sunny, and dry. The temperatures tend to increase in April and May. Most regions of India experience the summer monsoon in June, July, August, and September.
Tips for foreign tourists to visit restricted areas in India
Do you wish to visit restricted areas in India? In principle, tourist travel is allowed, but it requires some requirements. You can apply for a RAP at the Indian Embassy or Consulate in your home country. It is suggested that you do this well in advance of your trip, preferably right away following the submission of your India visa application. With a modern online system, Indian Immigration Services can help you get an e-visa quickly.
If you have any questions regarding your Indian visa, please feel free to contact us anytime you want, we are happy to help you.