The Top List of Must-Visit Tourism Pilgrimage Destinations in India
India is renowned for its vast cultural diversity and ancient legacy. The importance of spirituality in this nation's development has given it a leading global position. And the reason why travelers from over the world are drawn to India year after year is due to its strong spiritual roots.
India's spiritual practices reflect the numerous religious ideologies and hues that have adorned this country throughout history. Religious rituals, holy books, churches, mosques, and other places of worship reflect the distinctive nature of spiritual quests. The pilgrimage trip packages in India show off how advanced the spiritual traditions are. Follow the article below and discover the top pilgrimage destinations in India.
1. Varanasi
The city is also referred to as Kashi and Banaras, and it takes its name from the Varuna and Assi rivers. Varanasi, also known as the cultural capital of India, used to be the center of education. According to legend, Lord Shiva chose this sacred city as his home. It is one of the Shakti Peethas and one of the twelve Jyotirlinga locations in India. Hindus make a point of traveling to Varanasi because they believe individuals who pass away there will be saved. Ashes of the deceased are frequently thrown into the Ganga in Varanasi. The customary sights are funeral ceremonies being performed and people being cremated in pyres around here.
Varanasi is a historical city situated 125 km from Allahabad, 163 km from Aurangabad, 208 km from Gorakhpur, 239 km from Rewa, 250 km from Patna, 258 km from Gaya, 321 km from Lucknow, and 327 km from Kanpur. It is regarded as one of the most important pilgrimage destinations in India and one of the top tourist destinations in Uttar Pradesh.
Varanas - pilgrimage destinations in India
2. Haridwar 
Haridwar, also known as Hardwar, is a historic holy city in the Haridwar district of Uttarakhand. It is located at a distance of 26 km from Rishikesh, 54 km from Dehradun, 86 km from Mussoorie, 192 km from Chandigarh, and 208 km from Delhi. It is worth adding Haridwar to your travel bucket list in India as this place is one of the most critical sites for pilgrimage tourism in India.
Haridwar, which means "Gateway to God", located on the banks of the River Ganges, is one of the seven holiest locations for Hindus. It is the location where the Ganges River flows into the plains. Being a reserved religious destination in India, Haridwar offers tourists various temples and ashrams where they can visit and go on a pilgrimage.
The legendary Kumbh Mela, which takes place once every 12 years, has Haridwar as one of the venues. The Ardh Mela is conducted every six years. The other significant festivals observed in Haridwar include Baisakhi, Kanwar Mela, Somwati Amavasya, and Kartik Purnima.
Haridwar - A perfect destination for pilgrimage tourism in India.
3. Tirupati
Tirupati is a holy city in the Chittoor district of Andhra Pradesh, located at a distance of 71 kilometers from Chittoor, 413 kilometers from Vijayawada, 556 kilometers from Hyderabad, 763 kilometers from Vizag, 134 kilometers from Chennai, and 259 kilometers from Bangalore. When it comes to the most famous pilgrimages in India, travelers cannot miss this place. 
Tirupati is renowned for its cultural events and festivals. The Tirumala temple Brahmotsavam, the Vijayanagara Celebration held at Chandragiri Fort, and the Rayalaseema Food and Dance Festival are some of the major highlights of the temple town. The Tirumala temple Brahmotsavam is the largest festival, though. An additional significant event in this region is the Gangamma Jatra, which lasts for a week in May. The festival, which is celebrated at the Tataiah Gunta Gangamma temple in Tirupati, is well-known for its peculiar traditions.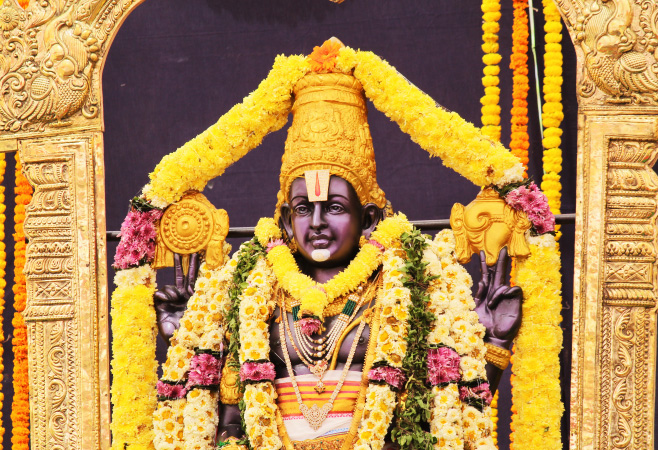 Tirupati - A famous pilgrimage in India
4. Shirdi 
Shirdi is one of the most important religious attractions in India and is situated in the Ahmednagar district of Maharashtra. It's only 190 kilometers from Pune and 240 kilometers from Mumbai. The village is well-known for being the residence of Sai Baba, a prominent saint who died in 1918. Sai Baba's exact name and place of birth are unknown, although it is thought that he came to Shirdi at the age of 16 and began residing in the Khandoba Temple. It is unknown to what faith he belonged, although he was respected by both Muslims and Hindus.
The saint spent over half of his life here, spreading his well-known phrase, "Sabka Maalik Ek" (one God for all). People from all religions, racial backgrounds, nations, and ethnicities have all revered Sai Baba, and they still do. The shrine of Sri Sai Baba and other sites like the Dixit Wada Museum, Adul Baba Cottage, Dwarkamai, and others draw millions of tourists to the town of Shirdi each year. Kindness, warmth, and compassion abound in the town. Shirdi, one of the top pilgrimage destinations in India, is also associated with several tales of the illustrious Shirdi Sai.
Shirdi - One of the top pilgrimage destinations in India
5. Somnath
Somnath is a Gujarati temple town that is located in the Gir Somnath district. It is only 6 kilometers from Veraval, and 131 kilometers from Porbandar. It is among the most significant pilgrimage destinations in India and is included in all must-see Gujarat trip itineraries under the name Prabhas Patan.
Somnath, a temple town, is one of the best attractions near Rajkot since it offers both spiritual renewal and tranquil beach relaxation. The Somnath Temple, regarded as one of the most renowned and sacred shrines in India, makes the village of Somnath famous. The abundance of temples in the neighborhood enhances the spiritual atmosphere.
The temple, which honors Lord Shiva, is one of Gujarat's most revered pilgrimage sites and one of the twelve major Jyotirlinga shrines. The name Somnath, which means "Lord of the Moon God," relates to Lord Shiva because he is well-known for donning the moon on his head. Furthermore, Somnath is thought to be where Lord Krishna finished his Lila before departing for his heavenly dwelling.
Somnath - pilgrimage destination in India
Things Travelers Should Note When Visiting Pilgrimage Tourism In India
The numerous pilgrimages scattered all over India are a vivid indication of the religious diversity within the nation. Because India has strong origins in so many religions, including Hinduism, Buddhism, Jainism, Sikhism, and Islam, it is a popular travel destination for people of all faiths. India has a hidden mystical aura that delivers an unmatched spiritual experience. Therefore, organizing a pilgrimage there is unquestionably a fantastic idea. Before making travel arrangements for an Indian pilgrimage, you should know a few things. Learn more about some notices when visiting pilgrimage tourism in India to consistently arrange more spiritual holidays.
Wear appropriate attire and cover up as necessary.
Even though it may be warm in India, wearing a low-cut top or a miniskirt while going about is unacceptable. You would draw a lot of unwanted attention to yourself if you dress revealingly there because it is a conservative area. Additionally, dressing like this while visiting a temple or other place of worship is disrespectful. Pack a shawl or sarong to conceal your cleavage, some lightweight long pants, and tops that cover your shoulders.
Enter a temple with your shoes off.
Many temples will request that you remove your shoes before entering. It is therefore a good idea to wear footwear that is simple to put on and take off, such as sandals. Keep your shoes in your backpack or pay the temple attendant a few rupees to keep an eye on them if you are concerned that they will be taken from the front of the temple while you are inside.
Acquire a Travel SIM card for your phone
It will be a lot simpler to explore India if you can use your phone. You can quickly check out travel websites on the move for suggestions and scam alerts, look up directions on Google Maps, read TripAdvisor reviews prior to dining at a restaurant, and much more. Obtaining a SIM card with data for your phone should be one of your first considerations when you arrive.
Most travelers may question where they can purchase an inexpensive prepaid e-Sim in India before they leave. Travelers need not worry because they can easily purchase an e-SIM online at any time and from any location. However, for a hassle-free journey, we strongly advise travelers to prepare it before they reach India.
We include an e-Sim that is available in India with the best data sim in India as part of a visa full package service, which will help clients save money and have more free time. All customers can purchase an Indian eSim online and submit it with their e-visa application to the Indian Immigration Services if their mobile devices or laptops are eSim-compatible. The fact that clients can now get an e-SIM card from us without providing any additional information is more convenient.
Recognize the Indian Head Waggle
Travelers to India frequently see how people respond by wagging their heads back and forth in a certain manner. It differs from nodding up and down or side to side to indicate yes or no. It can be somewhat perplexing because it's a gesture that doesn't exist in the West. Depending on the situation, the Indian nod might imply a variety of things.
Don't Forget Travel Insurance
India is no exception to the rule that you should not travel without Travel Insurance. Your insurance will pay for and reimburse any medical care you need if you are sick or hurt. Some insurance plans will also protect you against theft, lost luggage, cancellations, and other potential mishaps during your vacation. You'll feel more at ease knowing that no matter what happens, everything will be taken care of.
The quantity and variety of gods in Hinduism, as well as the symbolic forms and images in which the gods were found, should all be mentioned when talking about pilgrimage destinations in India. The country unquestionably has hundreds of distinctive pilgrimage sites that provide travelers with unmatched experiences, including believers and non-believers. Take a spiritual journey; a pilgrimage is not only one of the most popular means of atonement, but it is also how a traveling pilgrim learns about India's natural attractions and religious heritage. Taking the time to see some of these pilgrimage sites will allow you to experience India's intriguing cultural beliefs.
So as soon as you start planning for your next holiday, apply for an Indian visa at India Immigration Services. Traveling in India keeps you connected. With Travel Sim data and Travel Insurance, you may roam for less money as well as safety while staying online. Please do not hesitate to contact us right away when you plan for your India trip.